Dreaming Big at Startup Scaleup
by Deborah Hoover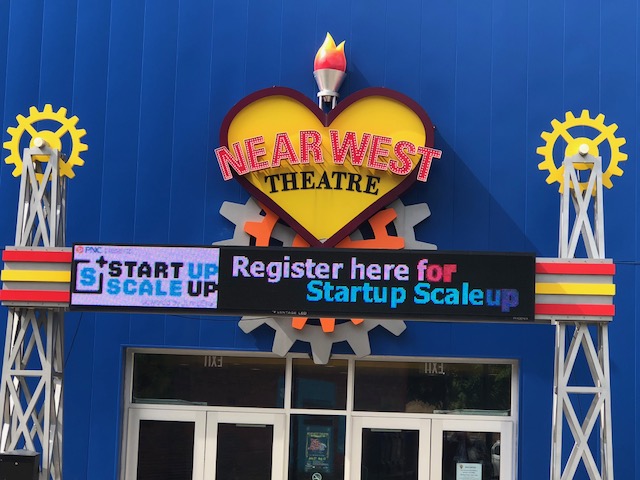 In late June, our Morgan Foundation team descended on JumpStart's annual Startup Scaleup extravaganza in Gordon Square. Every year, we look forward to this celebration enjoyed with more than 1,000 of our colleagues from the Startup-Scaleup community. This year the event was particularly wonderful—a gorgeous day, inspiring entrepreneurs/ecosystem builders, and substantial panels that added real meaning to the work we do each day. It is a day to mark and celebrate our progress as an entrepreneurial c
ommunity, while we simultaneously reboot and reenergize for the year of challenging work ahead.
As I enjoyed the day exploring sessions, eateries, and new ventures along Detroit Avenue, I spied this larger-than-life wall mural on the side of a building across from the Near West Theatre where the marquee featured the Startup Scaleup welcome. The mural declared "Dream Big." It was the poignant juxtaposition of these messages that struck me—on the one side of the street, throngs of people learning, networking, and taking stock of our progress—on the other side of the street this bold message of hope and aspiration for the future of our region.
Working together, we have made enormous progress over the last decade, yet we remain an entrepreneurial community in transition. While our team celebrated in the full spirit of the day, we came back to work fortified for another year of ecosystem building, hard work, and "dreaming big" about the bright possibilities for the future of our region.
Above Photos:  1. Near West Theater - Gordon Square.      2. Convening at Startup Scaleup with JumpStart Higher Education Collaboration Council colleagues at the Stone Mad Pub