The Backstory on Our Founder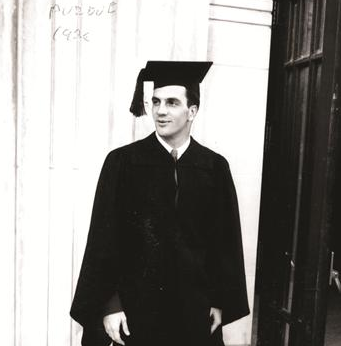 Burton Davis Morgan was a successful entrepreneur who personally started or supported the launch of dozens of businesses during his lifetime. He was born in 1916 in New York City, but eventually settled in the Chicago area, where his father taught psychology at Northwestern University. As youngsters, he and his brother spent their summers at their grandparents' farm in Indiana. Throughout his life, Morgan considered himself "just a farm boy." In reality, he was an engineer, an inventor, an author and a philanthropist.
Mr. Morgan moved to Ohio following his graduation from Purdue University to begin his first job, at B.F. Goodrich in Akron. He left when the company declined to select him as a future leader. He landed at Johnson & Johnson in New Jersey, where he was assigned the task of designing a machine to make junior-size Band Aids. What he called the "sticky paper" business would become his professional focus.
In 1953, he teamed up with the Avery Label Company of California to start a company in Painesville, Ohio. Morgan convinced his partners that the pressure-adhesive paper company --known as Fasson-- should be near Akron, where some of the world's best rubber and adhesive compounds were made. Fasson found success when it began manufacturing an adhesive-backed product similar to contact paper. In 1958, Morgan partnered with the owners of the Bemis Bag Company, once the world's largest importer of burlap, and founded the Morgan Adhesives Co. in Stow. Burt and Peg Morgan and their three children moved to nearby Hudson, which had been settled by one of Peg's ancestors.
In the early 1960s, Morgan invested in another start-up, Filmco, which developed an oxygen-permeable cellophane that helped revolutionize the way meat was packaged in supermarkets. When that company was bought by R.J. Reynolds Tobacco Co. in 1967, Morgan's small investment made him a multi-millionaire. That same year, Burton D. Morgan Foundation was established.
During the decades Morgan operated his companies, he traveled around the world with an organization of corporate leaders and as a business ambassador on behalf of the State of Ohio. He returned home each time with a conviction: entrepreneurship and the free enterprise system "comprise America's number one advantage over the rest of the world." That conviction strengthened as the years went on. And as it did, the Foundation that Morgan established began to focus its resources on grants to promote entrepreneurship and the free enterprise system.
Our Home
Although Burton D. Morgan did not sit on the board of Burton D. Morgan Foundation, he always made his wishes known. On one point in particular, he became increasingly vocal in the latter years of his life: Burt Morgan wanted the Foundation he established to be located in Hudson near the green. "This is Burt's community. He wanted to be part of it and contribute to it," Trustee Richard Chenoweth said.
In 1999, the Foundation negotiated to buy the Baldwin House on the northeast corner of the green. Built in 1832, the frame house was the birthplace of Caroline Baldwin Babcock, who started the Hudson Library & Historical Society. Library trustees had purchased the building in 1925 for use as the community's library. Ultimately, the two-story dwelling was not large enough for the growing Hudson community. In 1954 and again in 1
963, brick additions were built to the east on Aurora Street.
The Baldwin House was on the market because the Hudson Library & Historical Society had outgrown its quarters and was planning to move to a new development called First & Main. The Baldwin House seemed an appropriate place for the Foundation to relocate – even though it meant waiting until 2002 to move when the new library was built. The library took longer than expected. When the Foundation's worth grew after Mr. Morgan's death in 2003, the larger and newer brick section of the library seemed more appropriate. Eventually, the Foundation was able to purchase both the brick building and the adjoining Baldwin House.
The two buildings were eventually separated. The brick building was renovated, and Burton D. Morgan Foundation moved to Hudson in September of 2006. The Baldwin House now provides office space for the Hudson Community Foundation, Hudson Community First, Hudson Job Search and Hudson Heritage Association.
Foundation-Sponsored Entrepreneurship Centers
Decades before the current proliferation of entrepreneurship programs, Burt Morgan wrote and spoke about the need for formal entrepreneurship education. In spite of his success, he regretted that he did not have a formal educational opportunity that would have taught him entrepreneurial skills and spared him many of the pitfalls that precipitated his business stumbles along the way. So in later life, he decided to focus the resources of his foundation on the development of entrepreneurship programs for all ages.
In the late 1990s, Mr. Morgan channeled his passion to champion the creation of entrepreneurship centers on college campuses. "Lay bricks now" became his mantra. In 2000, the Foundation invited selected colleges and universities to submit design ideas for campus entrepreneurship centers. Over the next four years, the Foundation funded entrepreneurship centers at Ashland University, Denison University, Purdue University, and The College of Wooster.
Subsequently, in 2008, the Foundation funded the Burton D. Morgan Entrepreneurship Center at Hiram College, part of a new residential learning community established for entrepreneurship students at that school. We are also proud to fund entrepreneurship programs in each of these buildings. The presence of physical centers on each campus makes an affirmative statement about the identity and importance of the programs.
Ashland University
Completed in 2003, The Burton D. Morgan Center for Entrepreneurial Studies is a wing of the Dauch College of Business and Economics at Ashland.
The College of Wooster
Dedicated in 2002, Burton D. Morgan Hall is located at the heart of The College of Wooster campus and houses the departments of Psychology, Education, and Economics and the Information Technology Center.
Denison University
Denison dedicated the Burton D. Morgan Center in the fall of 2003. In 2004, the American Institute of Architects presented Graham Gund Architects with an Honor Award for Excellence in Architectural Design for the Morgan Center.
Hiram College
The East Hall at Hiram houses the Burton D. Morgan Entrepreneurship Center (which houses classrooms, offices and an incubator), along with residential suites where entrepreneurship students live and socialize to advance their ideas.
Purdue University
Completed in 2004, The Burton D. Morgan Center for Entrepreneurship at Purdue University, Mr. Morgan's alma mater, serves as the hub for Discovery Park, an expansive research park with centers for nanotechnology, bioscience, and engineering.
---
Burton D. Morgan Fellowship Program
In conjunction with founding the Entrepreneurship Education Experiment (E3), Burton D. Morgan Foundation established its Burton D. Morgan Fellowship program in 2015 as a means to inject fresh thinking and new ideas into the daily work of the Foundation.  The Fellowship program serves to advance the goals of the Entrepreneurship Education Experiment by converting data and information collected from ecosystem building and grantmaking into knowledge and actionable strategies for developing entrepreneurship programs in Northeast Ohio.  The Foundation anchors its work in the Northeast Ohio entrepreneurial ecosystem, but aims to share its knowledge base nationally and internationally.
Scott Shane Becomes First Foundation Fellow
Dr. Scott Shane, A. Malachi Mixon III Professor of Entrepreneurial Studies at Case Western Reserve University, became the Foundation's first Fellow in early 2015.  He conducted a series of pitch competitions (PITCH U) at area universities as experiments to determine how to best teach entrepreneurs to pitch ideas. Dr. Shane has designed and made available pedagogical materials to help teachers and instructors coach their students on making more persuasive pitches. 
Access Pitch Training Materials
Greg Malkin Joins Foundation as its Newest Fellow
In September 2018, Greg Malkin became the newest Foundation Fellow.  Greg, who remained in his role as Director of the Young Entrepreneur Institute (YEI) at University School, worked to translate lessons learned from the Foundation's youth grantmaking into practical advice for teachers and schools as they grapple with the best ways to prepare students for a future in which entrepreneurial thinking will be an essential skill.  In addition to sharing lessons across Northeast Ohio, Greg and Morgan Foundation collaborated with Michigan-based Charles Stewart Mott Foundation to influence the incorporation of youth entrepreneurship into a national network of after-school programs.  Greg participated in grant review activities, sharing on-the-ground knowledge gathered from years of consulting with entrepreneurship educators to understand and address their challenges. He also conducted professional development sessions with Foundation staff. 
Greg worked with YEI and Morgan Foundation teams to assemble the ground-breaking Enspire Educator Conference which is held each November and attended by hundreds of youth entrepreneurship education practitioners from across the globe.
---
Entrepreneurship Programming and Resources at Hudson Library
While many other libraries in the region have established entrepreneurship centers and programming over the last decade, Hudson Library's program remains a premier resource for aspiring entrepreneurs.
The Foundation took a lead role in the establishment of the Burton D. Morgan Center for Entrepreneurship Research at Hudson Library and Historical Society. Launched in 2008, it provides:
Lecture & workshop series on business topics
One-on-one business counseling
Database training for business research
Pitch competitions
Partnerships with regional providers of capital resources and technical assistance for businesses
Specialized collection of resource materials
The program now serves as a model for other libraries.