Meet the Entrepreneur:   Tracey Starks, Bespoke Balloons Akron
Recently, we met with Tracey Starks to learn more about her business, Bespoke Balloons Akron.  Tracey is one of the latest graduates of MORTAR at Bounce, a 15-week small business accelerator that helps established entrepreneurs take a deeper dive into the nuances of business ownership and build a comprehensive business canvas to grow their company.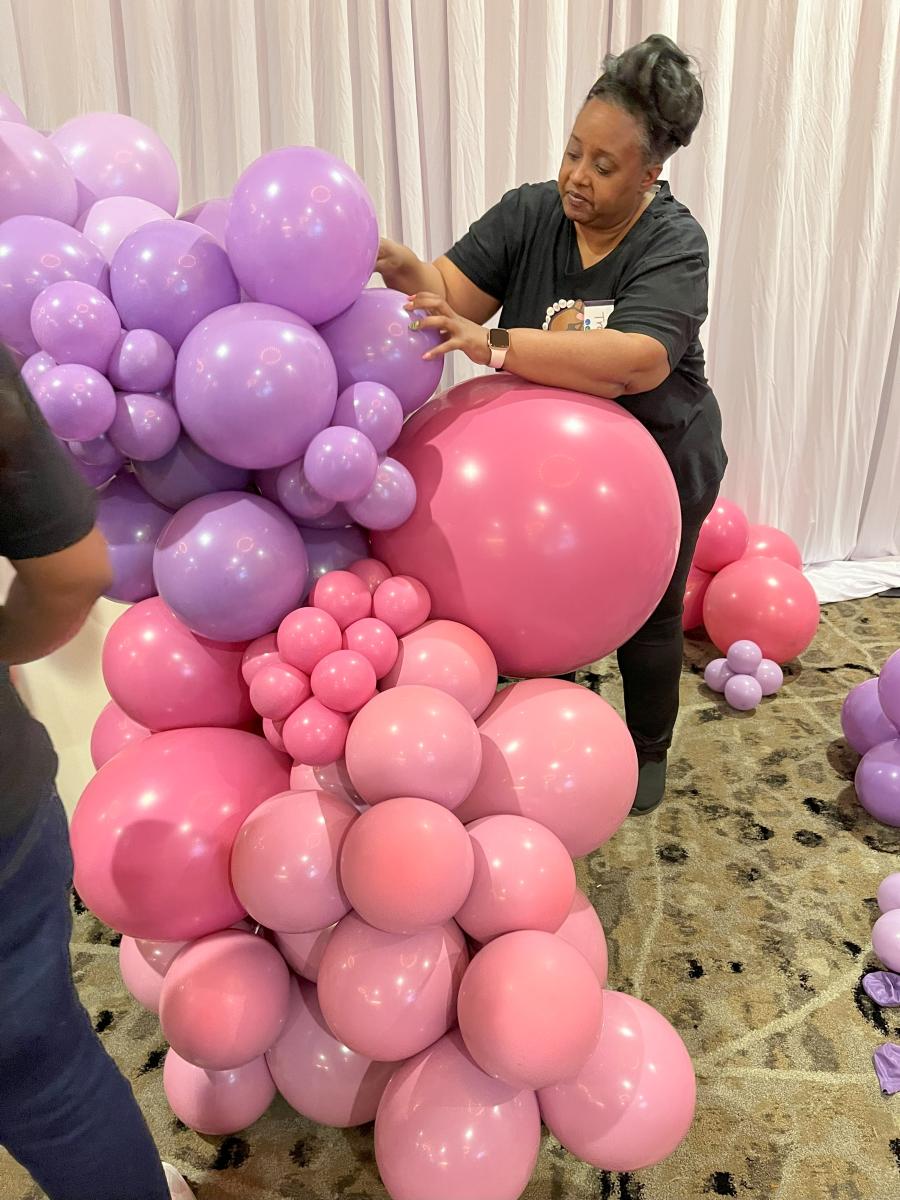 Foundation:  Tell us about Bespoke Balloons Akron and how it got started.
Tracey:  As an educator working with high school students at Ellet CLC, one of my daily lessons always focused on financial literacy.  Students were immediately engaged with this topic and wanted to not only learn more, but how to make money to practice what we were learning.  The recurring problem was how to make, save, invest and grow money.  What better time for them than now to learn about compounding interest?  So, we brainstormed a list of business ideas they could do now…. balloon business was on the list.  In the spring of 2022, the senior class prank was executed; all three floors of Ellet CLC were flooded with balloons.  As I was greeted at the door with a sea of balloons, I saw it as a sign.  My students were deployed to collect as many balloons as possible and we built our first balloon garland and hung it in the atrium, congratulating them with the presentation/gift of the massive balloon installation.  Bespoke Balloons Akron was born!   That summer was spent training and learning the craft of balloon working.  In the fall, I led free sessions with 6 students, who were willing to learn the basic skills around balloon decor.
Foundation:  Where do you see your business in five years?
Tracey:  Five years from now, I imagine Bespoke Balloons Akron serving the local and surrounding community with a team of balloon stylists who are skilled and able to represent the brand with the highest level of creativity, professionalism and consistency.  My goal is for our clients' expectations to be exceeded every single time!  I hope to provide our services to more businesses and corporations.  I hope to be on the authorized vendor list of all the local schools and universities.  I also aim to offer balloon bouquets to local hospitals and flower shops.  Finally, I hope to generate enough revenue to support a brick-and-mortar location with space for a workshop, storage and retail store where customers can order, design and pick up grab and go decorations. 
Foundation:  How do you define success?
Tracey:  I define success as our ability to provide skilled employment to young people in our community, a thriving business that supports a physical location and a transportation fleet, and of course sprinkles joy throughout the community as memorable moments are created and celebrated!
Foundation:  Do you have a mentor? 
Tracey:  I have an amazing mentor in Kelly Gary of Toka Art Gallery.  He has helped me reflect on the need to scale and market our business.  He has helped me avoid pitfalls while managing the "business operations" of BBA.  
Foundation:  How about a role model? 
Tracey:  There are several talented balloon artists in our community.  Their designs inspire me!  I learn from their shared tips and tricks.  I also collaborate on installations and share leads when I'm not available.  I have enjoyed forming friendships and support circles amongst them.  Sometimes you need "community" to get a job done. 
Foundation:  What is the most valuable lesson you learned from the MORTAR at Bounce program?
Tracey:  The most valuable lesson I learned from MORTAR was around pricing.  This is the single most difficult area for BBA.  They helped me drill down to the most basic elements of cost to provide this service and identify how to make it profitable.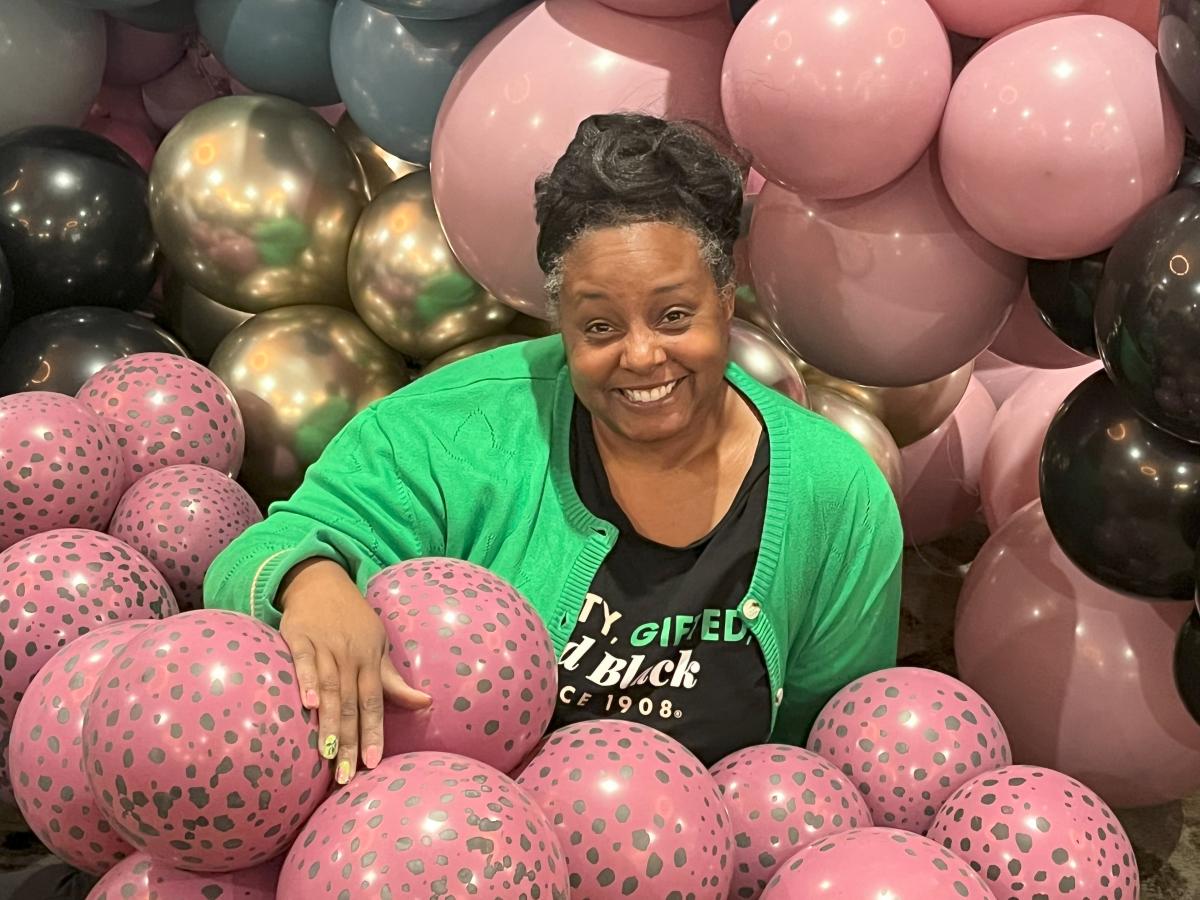 Foundation:  What is the hardest part of being an entrepreneur? 
Tracey:  The hardest part of being an entrepreneur is, 1. The time investment required to meet the demands of our service.  Many hours (unseen to the customer) go into making a design a reality.  Clients don't see the endless hours of sourcing, designing, mocking-up, preparation, logistics, and physical labor that occur before the 2–3-hour on-site installation; 2.  The desire to generate enough business to offer enough work opportunities to the students who are wanting to work and develop their skills; and finally, 3. keeping up on trends, educating myself on industry leading skills, and investing in the tools that make it possible to provide the jaw dropping beautiful designs our brand aims to deliver.
Foundation:  What is your favorite part of being an entrepreneur? 
Tracey:  My favorite part of being an entrepreneur is the JOY we bring to our clients.  I am only limited by barriers set by myself.  I am not easily derailed and will push hard to find solutions.  This (and any business) is confronted with a series of problem-solving moments.  This basic skill is exercised regularly as we deliver our clients' dream decor.
Foundation:  What advice would you give someone who wants to start a business?
Tracey:  Just start!  Focus on execution.  Avoid being caught in an endless loop of researching, planning, and overthinking.  Find your people!  So many people are out here rooting for your success and willing to help.  Finally, don't forget to give thanks to God and the guardian angels who help us and want us to succeed and be blessed beyond measure!  When hands are "blessed and anointed" anything is possible!
Foundation:  Last question – tell us about the name Bespoke Balloons Akron.
Tracey:  The word "bespoke" means custom made.  But it also suggests luxury, refinement, tailored to produce a highly skilled and executed product.  I love British culture and this word has meaning to a customer.   They should know they are getting the BEST product possible.  I won't rest until it's beautiful.  That's the feeling I want to leave with my customers.  I want the community to know, there is an option whose standards are extremely high and special.... not ordinary.
To learn more about the MORTAR at Bounce business accelerator, visit:  https://bouncehub.org/mortar/