John Carroll University Becomes Fifth Member of NEOLaunchNET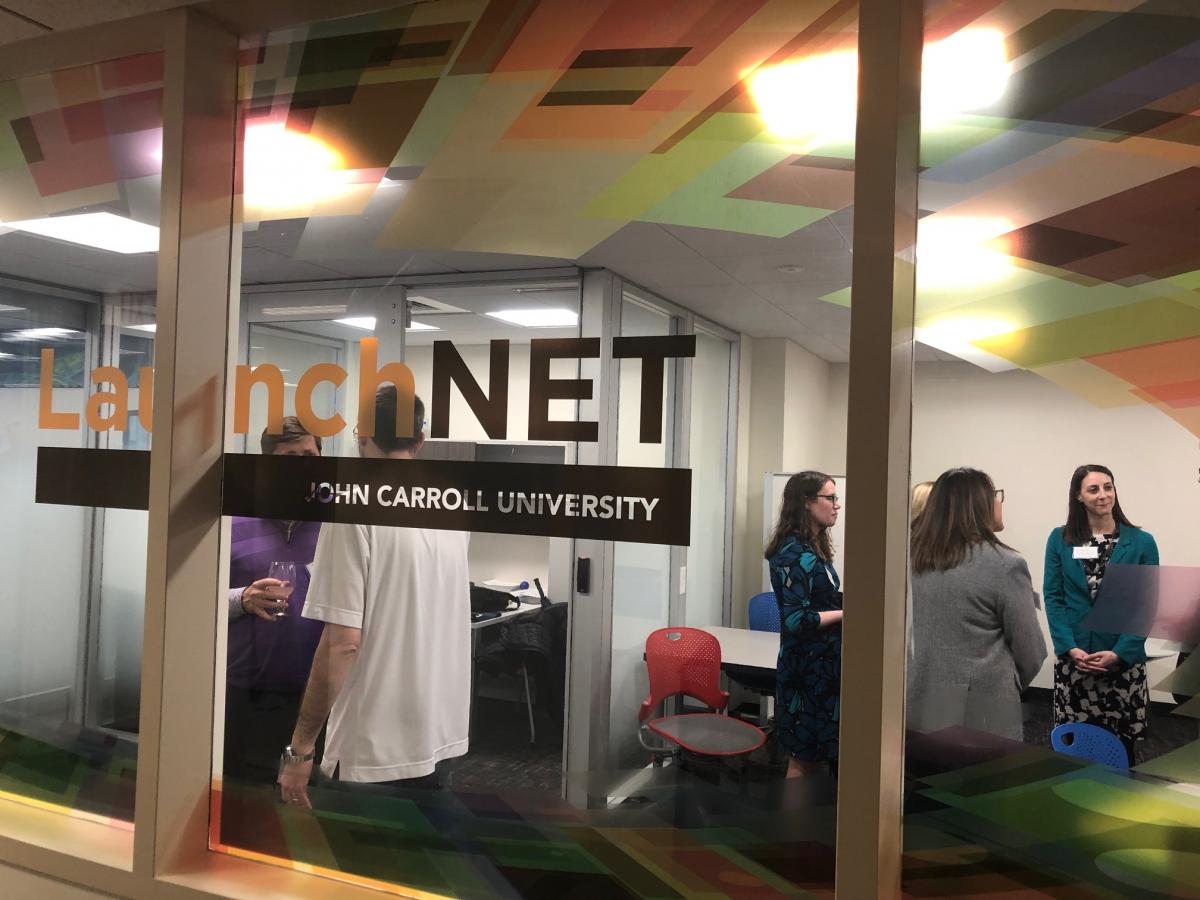 On February 6th, Burton D. Morgan Foundation officially welcomed John Carroll University as the fifth member of NEOLaunchNET. NEOLaunchNET, one of the Foundation's signature programs, is a regional initiative that seeks to inspire a culture of innovation on college and university campuses, building upon the unique assets and strengths of each school and sparking the entrepreneurial mindset in enterprising students. Other NEOLaunchNET members include Baldwin Wallace University, Case Western Reserve University, Kent State University, and Lorain County Community College.
Festivities took place in the Burton D. Morgan Creativity and Entrepreneurship Classroom at John Carroll. About 35 supporters including foundation staff, university faculty, staff, students, and administration, as well as representatives from each of the four other NEOLaunchNET campuses attended the celebration. After opening remarks from John Carroll University President Dr. Michael D. Johnson, Foundation President and CEO Deb Hoover spoke on the long-standing partnership between Burton D. Morgan and John Carroll, saying "We have enjoyed a long history of supporting entrepreneurship programming on the John Carroll University campus. JCU leadership has always demonstrated tenacity and creativity in developing innovative programs and we are delighted to be able to support this new chapter with the opening of LaunchNET with JCU." Doreen Knapp Riley, Vice President for University Advancement, and Tom Bonda, Director of JCU LaunchNET, also spoke, expressing their gratitude to the Morgan Foundation and sharing their excitement for the student entrepreneurs who will build their ventures through LaunchNET.
Deb joined Dr. Johnson and representatives from the Muldoon Center for Entrepreneurship in a ceremonial ribbon-cutting to mark the official opening of LaunchNET at JCU. With much applause, excitement in the room was unmistakable. We can't wait to see the big ideas to come!
Originally established in 2012 in partnership with the Blackstone Charitable Foundation, the NEOLaunchNET program has pioneered cross-campus collaboration in Northeast Ohio, attracting more than 4,100 student participants and helping inspire over 3,021 ventures to date. The Foundation convenes the NEOLaunchNET campuses 4-5 times per year to learn from one another and foster a collaborative culture of innovation. We look forward to having John Carroll join us in these gatherings in 2019 and beyond!