Enspire 2019 Coming Soon - Register Now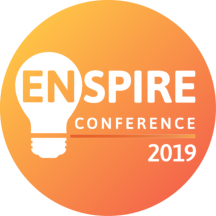 The Enspire conference has become so popular since its inception that it has outgrown its space.  Now in it's 5th year, Enspire is a must-attend event for K-12 educators who are interested in taking their lessons to the next level by embedding entrepreneurship in their classrooms and programs.  To accommodate an even larger crowd, Enspire is moving to Landerhaven in Mayfield Heights this year on November 8 and 9.
Hosted by Young Entrepreneur Institute, Enspire 2019 will feature hands-on workshops, networking and teacher support, peer-to peer learning, and take home tools for the classroom. 
Post-conference mini-grants for additional entrepreneurship opportunities will be available to attendees.  Substitute teacher reimbursement is available.
Speakers include:
Michael Bonner - visionary leader and elementary school teacher featured on the Ellen DeGeneres show
Jasmine Lawrence - entrepreneur, computer engineer and founder of EDEN BodyWorks
JJ Ramberg - entrepreneur, author, and former host of MSNBC's Your Business
Amanda Kathryn Roman - Chief Innovation Officer at Conscious Capitalism, Inc.
Cost is only $20 as Burton D. Morgan Foundation is committed to making the Enspire Conference affordable to attend ($500 value).