Deshpande Symposium 2022- That's a Wrap!
Deborah Hoover Honored at Deshpande Symposium as Champion of Entrepreneurship Education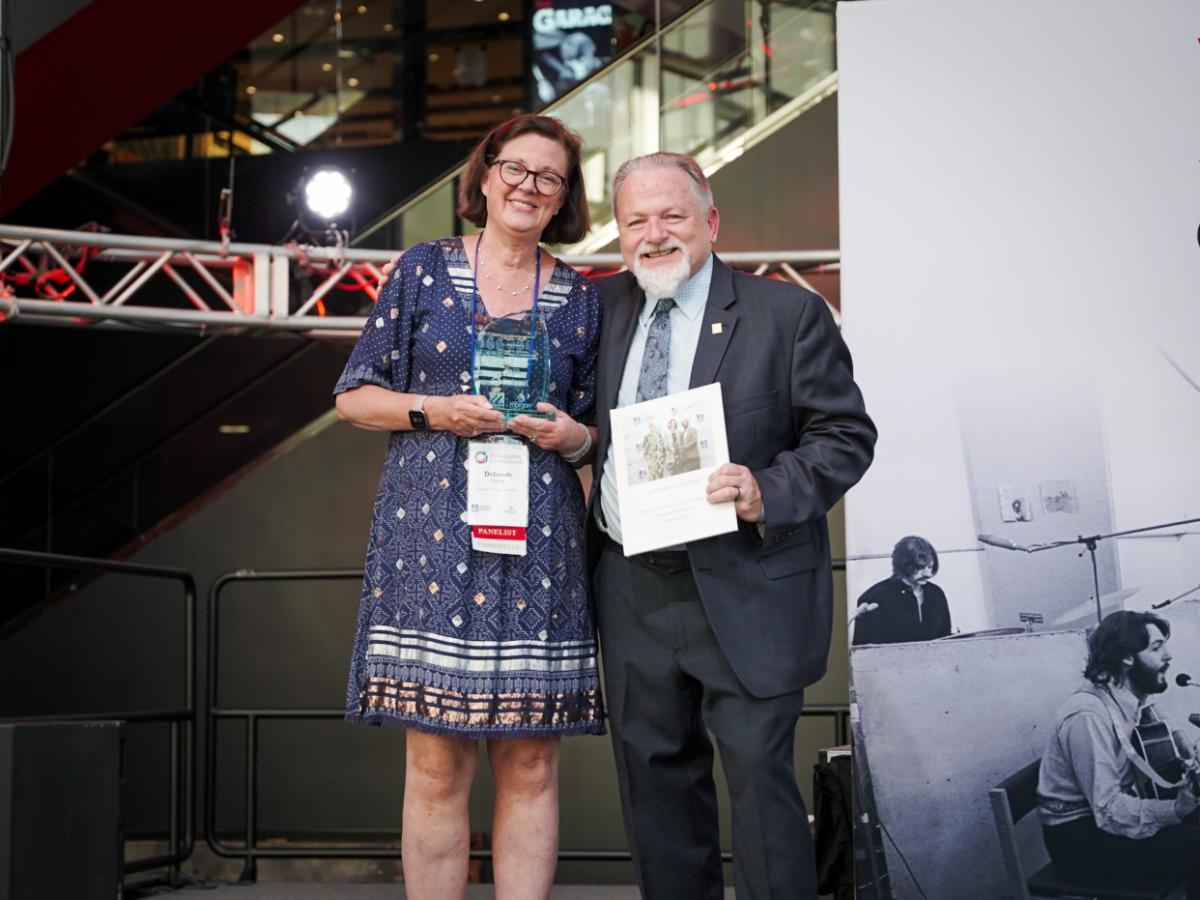 Burton D. Morgan Foundation President and CEO Deborah Hoover was presented with the Founder's Award at the Deshpande Symposium yesterday.  The three-day event was held in Cleveland this year, with the awards celebration taking place on the Rock and Roll Hall of Fame stage.
Hoover co-founded the conference with partners from UMass Lowell and the Deshpande Foundation, and she was instrumental in bringing the Symposium to Cleveland in 2022, the first year it's been held outside of Lowell, Massachusetts.  Hoover has worked tirelessly to bring entrepreneurship programs to campuses across Northeast Ohio during her fifteen-year tenure leading Morgan Foundation. 
"I was totally surprised and deeply grateful to receive the Deshpande Symposium Founder's Award last evening!  My engagement with the Symposium and its great team has been one of the most powerful experiences of my time with Morgan Foundation," commented Hoover. "I have absorbed valuable lessons from my Deshpande colleagues and applied these practices to our ecosystem work in Northeast Ohio.  In my new role as CEO of Entrepreneurship Education Consortium, I will continue to be an ardent Symposium supporter and participant." 
Hoover shares the award this year with UMass Lowell Chancellor, Jacquie Moloney, who cofounded the conference.  "I am profoundly grateful to receive this honor from my peers. Through this symposium, together, we expand opportunities for students to think and respond like entrepreneurs on their way to becoming our next generation of leaders," said Moloney.
Now in its 11th year, the Deshpande Symposium for Innovation and Entrepreneurship in Higher Education is dedicated to integrating entrepreneurship education and opportunities into campus life at colleges and universities across North America.  The international event, which annually draws hundreds of educators, business professionals, government, and nonprofit leaders, advances how colleges and universities drive research, entrepreneurship, business growth and economic vitality in their respective communities. 
This year, conference participants explored the impact higher ed institutions have on regional economic and social ecosystems as well as the opportunities collegiate entrepreneurship programs create to diversify the professional talent pool and foster greater equity and inclusion in the workplace.
Offering their insights on these issues were keynote speakers Renu Khator, chancellor of the University of Houston system, and Philip Gaskin, vice president of entrepreneurship at the Ewing Marion Kauffman Foundation.
Leaders from historically Black colleges and universities headlined a session on how these institutions can act as change agents for entrepreneurship, while representatives of the National Science Foundation's new Technology, Innovation and Partnerships (TIP) Directorate outlined how institutions can best pursue collaboration and funding opportunities.
Other sessions offered participants best practices in building entrepreneurship into higher ed institutions' curriculum, culture, ecosystems, and research; pursuing commercialization opportunities; and implementing emerging trends in the field.
Along with Moloney and Hoover, the conference presented awards to one additional individual and six institutions for their exemplary work fostering entrepreneurship.
Other recipients of this year's awards included: 
Outstanding Contributions to Advancing Innovation and Entrepreneurship in Higher Education Award: Professor Nathalie Duval-Couteil, Purdue University entrepreneurship program director.
Excellence in Curriculum Innovation in Entrepreneurship Award: The Derby Entrepreneurship Center at Tufts University. The Rising Star award in this category went to the Entrepreneurial Leadership Program at Waynesburg University.
The Excellence in Student Engagement in Entrepreneurship Award: Northeastern University and the Peter T. Paul Entrepreneurship Center at the University of New Hampshire.
The Deshpande Symposium Award for Technology Commercialization: GDC I-ncubate at the Indian Institute of Technology-Madras and Dal Innovates at Dalhousie University. 
"This year's awardees highlighted diversity of programming, curriculum and geography, including strong representation from Canada and India. Once again, a program was recognized for innovation and potential in their approaches with the Rising Star Award.," said Raj Melville, executive director of the Deshpande Foundation.