Burton D. Morgan Foundation Awards Over $2.1 Million in Support of Entrepreneurship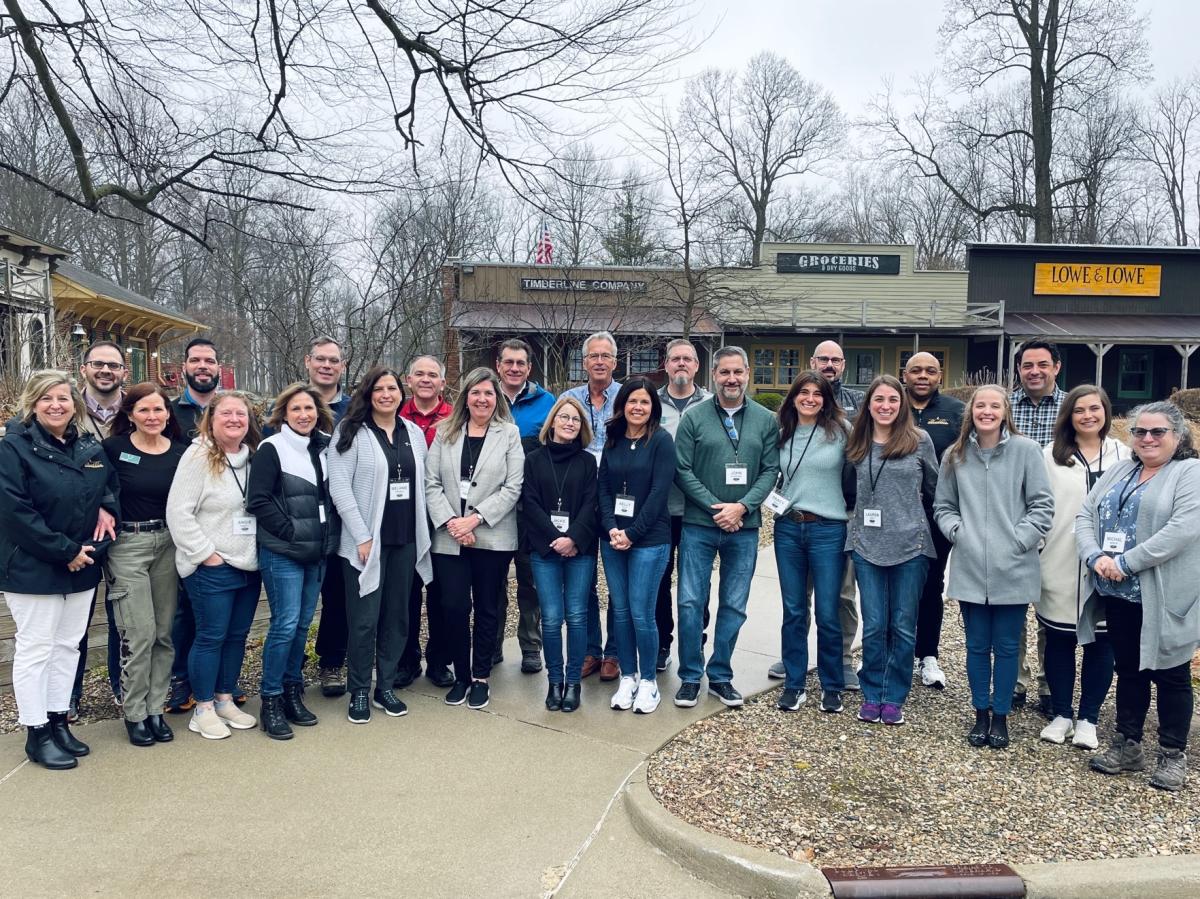 Attendees of Big Rock Valley Leadership Retreat pictured above
Despite being engaged in a year-long strategic planning process, Burton D. Morgan Foundation has not slowed down their support of entrepreneurship in Northeast Ohio.  In fact, the Foundation has awarded more than $2.1 million in grant funds over the last several months to support entrepreneurs of all ages and stages.
Morgan Foundation invests in programs that develop entrepreneurial thinking and skill-building in K-12 students.  University School was awarded $204,000 to support Young Entrepreneur Institute programming over the next school year.  Additional grants to support youth entrepreneurs were made to Effective Leadership Academy ($3,000), Emmanuel Christian Academy ($20,000), and Junior Achievement of North Central Ohio ($3,000).
YIPPEE Exchange is Morgan Foundation's primary vehicle for supporting youth entrepreneurship.  YIPPEE (short for Youth. Ideas. Product. Points. Entrepreneurship. Education.) is a first-of-its-kind online platform launched in 2022 by Burton D. Morgan Foundation and Young Entrepreneur Institute which provides educators with access to curated resources designed to build their students' entrepreneurial skills and connect them with entrepreneurs in their communities. YIPPEE offers a free-market approach to philanthropy in which teachers drive funding decisions through their use of points.  Morgan Foundation has made significant investments over the past year toward the development of this innovative platform.
NEOLaunchNET, a signature program of Morgan Foundation, provides students of all majors with the opportunity to develop an entrepreneurial mindset and experiment with venture creation.  The program operates on five campuses:  Baldwin Wallace University, Case Western Reserve University, John Carroll University, Kent State University, and Lorain County Community College.  The Foundation invested a total of $785,000 to support LaunchNET programming at these campuses during the upcoming school year.
Morgan Foundation invested an additional $164,000 to support an initiative that provides NEO campuses with capital to support microgrants for students wishing to test their ventures.  Campuses receiving microgrant dollars include Ashland University, Case Western Reserve University, Cleveland State University, John Carroll University, Kent State University, Lorain County Community College, Northeast Ohio Medical University, and Oberlin College.  The Foundation expects to make a few more grants to support this initiative at other campuses in 2023.
Foundation President and CEO Dan Hampu commented, "The Foundation's experimentation with microgrants has provided students with the opportunity to explore venture ideas in new and meaningful ways.  Without this catalytic funding, many of these talented innovators would languish in the ideation phase due to lack of resources.  Morgan
Foundation remains committed to supporting student entrepreneurship as our founder, Burt Morgan, envisioned years ago."
Other campuses that received recent grant support include Ashland University, $145,000 for content creation and for entrepreneurship and free enterprise programming; The University of Akron, $85,900 to support the SEED Clinic; and Ursuline College, $15,000 for entrepreneurship programming.
Morgan Foundation Trustees have invested significant dollars in supporting adult entrepreneurs.  Recent grants went to the following:
BRITE - $100,000 to support activities of BRITEnetwork in 2023-24
Community Initiatives - $20,000 for operating support for Entrepreneurship Funders Network
Economic Growth Foundation - $200,000 to support the launch of MAP Lab in 2023-25
Hebrew Free Loan Association - $150,000 for business lending in Northeast Ohio
North Hill Community Development Corporation - $20,000 to support entrepreneurship programming
Summit Artspace - $20,000 to support artist entrepreneurship programming
Western Reserve Community Fund - $200,000 for programmatic support
With funding from Morgan Foundation, cohort 7 of Scalerator NEO, recently launched. Scalerator is a six-month program that helps motivated leaders of second stage businesses scale their companies.  Morgan Foundation partnered with the Richard J. Fasenmyer Foundation in 2017 to bring the proven Scalerator program to Northeast Ohio.  To date, 72 Northeast Ohio companies have successfully completed Scalerator NEO. The program boasts impressive results, with 75% of participating companies increasing their growth by 25% or more following completion of the program.
 The Foundation also partnered with Edward Lowe Foundation in March, sending 22 entrepreneurs to the Big Rock Valley Leadership Retreat in Michigan. The program provides second stage entrepreneurs with techniques and tools to take their companies to the next level.
Morgan Foundation supports organizations that benefit the Hudson community.  Recent grants awarded for Hudson initiatives include:
Destination Hudson - $6,000 for operating support
Hudson City School District - $10,000 to support Hudson Middle School clubs
Hudson Community First - $6,000 for the Career Panel and Intern for a Day program
Hudson Community Service Association - $8,000 for the Helping Hands Assistance Fund
Hudson-Landsberg Sister City - $5,000 for the Christkinklmarkt event
Hudson Montessori School - $5,000 for operating support
Music from the Western Reserve - $3,000 for concert support
Hudson Community Foundation received a total of $8,000 to support three initiatives – Hudson Bandstand, Hudson DEI Alliance, and The Vincent William Baran Charitable Fund.