2020 Cohort of Scalerator NEO Graduates and  Plans for Immediate Growth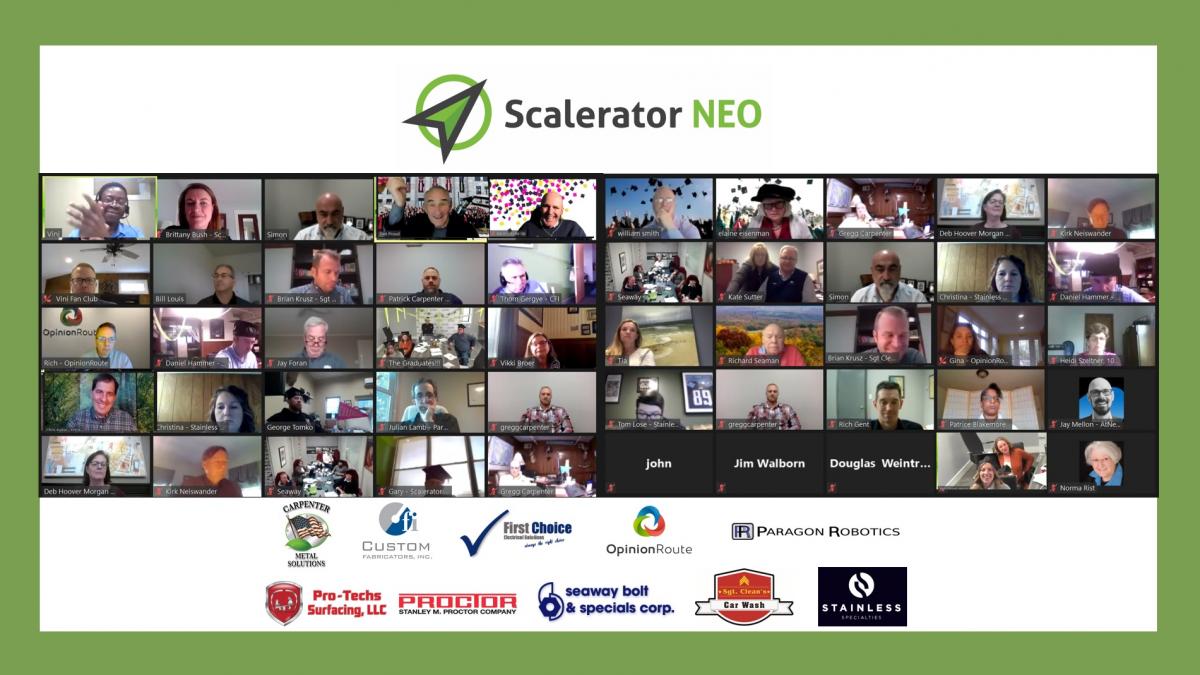 The fourth cohort of Scalerator NEO—a proven, results-driven program to help entrepreneurial leaders quickly, profitably, and sustainably grow their business—graduated in November after a six-month virtual experience.
Ten companies from five counties were chosen to participate in the 2020 cohort of Scalerator NEO at no cost to them. The participating companies represented a cross-section of the region's business communities, with a mix of manufacturers, service providers, construction, and tech, averaging roughly $8 million in sales and 30 full-time employees.  Overall, this cohort of companies represented over $80 million in sales and 300 full-time employees total. Cohort members included:
Carpenter Metal Solutions, Inc. - Alliance
Custom Fabricators, Inc. - Cleveland
First Choice Electrical Solutions - Alliance
OpinionRoute LLC - Cleveland
Paragon Robotics LLC - Bedford Heights
Pro-Techs Surfacing, LLC - Akron
Seaway Bolt & Specials Co. - Columbia Station
Sgt. Clean's Car Wash - Westlake
Stainless Specialties - Eastlake
Stanley M. Proctor Co. – Twinsburg
Scalerator NEO is a six-month, cohort-based educational program for entrepreneurs and leaders who want to deliver immediate growth to their businesses and are open to learning new ways to achieve this goal.  With a focus on the 3 Cs of growth (Customers, Capacity and Cash), Scalerator touts impressive results, with 75% of participating companies increasing their growth by 25% or more following the program.
Cohort four participants are already reporting remarkable results, even amidst the current pandemic.  "We issued three letters of intent in one week in order to increase the likelihood to build three new locations in 2021," shared Scalerator participant Brian Krusz of Sgt. Clean's Car Wash.
Julian Lamb, President of Paragon Robotics and another company in the 2020 cohort, shared this story of growth during his team's experience in Scalerator NEO: "We won a $8 million contract with the Health and Human Services department for a high-profile contract to monitor the U.S. nerve agent antidote stockpile… [It] will create 14 additional full-time positions for at least the next five years."
Scalerator® was developed by Daniel Isenberg, founding director of the Babson College Entrepreneurship Ecosystem Project. Over 400 companies have participated in Scalerator to date, with previous cohorts taking place in Northeast Ohio, Milwaukee, Manizales (Colombia) and Rio de Janeiro (Brazil).
Applications for the 2021 cohort of Scalerator NEO are currently open. The program targets companies with sales between $5 million and $15 million and a desire to grow their businesses. Companies from all sectors are encouraged to apply, as a diverse cohort has proven to provide the most fertile ground for a successful Scalerator experience.
Scalerator NEO is supported by Burton D. Morgan Foundation and the Fasenmyer Fund, established at Morgan Foundation by the former Richard J. Fasenmyer Foundation, a collaboration committed to supporting entrepreneurship and free enterprise in Northeast Ohio through targeted educational opportunities. EDGE, a non-profit economic development organization focused on innovation and entrepreneurship in Northeast Ohio, serves as the administrator of the program. Funds from Morgan Foundation and Fasenmyer Fund cover the costs associated with Scalerator NEO, and there are no fees charged to participating companies. 
For more information on how to apply for the next Scalerator NEO cohort, please visit ScaleratorNEO.org or contact Brittany Bush at Brittany@edgef.org.