My First 90 Days
by Dan Hampu
"Predicting rain doesn't count, building arks does." – Warren Buffett
We have made it one quarter since I started this tremendous journey as the President and CEO of the Foundation.  I am eternally grateful for the opportunity to serve Burton D. Morgan Foundation. The Foundation is going through a season of change and change is never easy. But working with great people can make it much easier.  Our board and team have made the transition seamless. The passion for entrepreneurship and its impact has come through loud and clear from conversations with board members, team members, grantees, and community members. Each of these conversations reminds me of how lucky I am to be serving alongside such inspiring people on an impactful, near, and dear mission: to preserve the free enterprise system through entrepreneurship education and support. 
This past quarter has been an incredible ride, filled with significant highs and some lows. Our two foundational sides of the house (endowment and grants) have both been tested but shown resolve, like any good entrepreneur.  Markets continue to be uneasy as the Federal Reserve tries to taper inflation. The market turmoil is exacerbated by multiple potential global issues like the war in Ukraine and its worldwide impact, the relations between the U.S. and China, and lastly the remaining pandemic. As a result, our portfolio has been whiplashed like any other company. Despite this, it has been resilient. Our grantees have proven through steady leadership that they can continue to drive outcomes during these times. The few stories we have shared are only a small representation of the impact that our Foundation's dollars have on organizations, individuals, and the community.
As I reflect on the past quarter, I imagine Burt Morgan riding the Aquaplane and think he focused on a handful of things: (1) preparation; (2) holding on for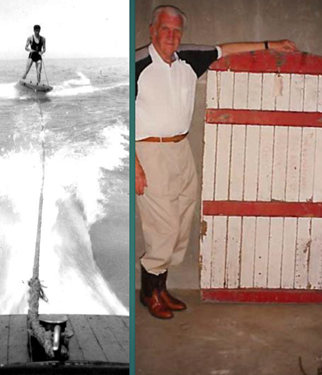 dear life; (3) getting up; and (4) riding waves like never before. These are very similar to my feelings for this past quarter's ride: (1) preparation – establishing and building on new relationships and picking up and building on existing relationships; (2) holding on - developing a deeper understanding of donor intent; (3) getting up - completing onboarding by having access to all required systems as well as conversations with many relevant and significant stakeholders; and (4) riding - supporting the hiring of a new program officer to further our work and our mission. 
I am very excited about the upcoming months.  Our course may be wavy and rocky but that is what makes it fun. We have shown that we are open to change and willing to tackle tough but rewarding challenges. I know our ecosystem will support us with reshaping our ark to help us stay on course. For as Warren Buffett has said, "predicting rain doesn't count, building arks does."
Anchors away!
Dan