Adult Entrepreneurship
Over the last decade, Northeast Ohio has focused its innate drive and ingenuity on rekindling its entrepreneurial heritage.  Through the collective energy of visionary entrepreneurs, dynamic economic development organizations, talented mentors, and strategic thinkers, the region has created a vibrant entrepreneurial ecosystem that sparks innovation and fosters sustainable ventures.  The Foundation's funding in the adult entrepreneurship space is focused primarily on Akron, Ohio.
Helping to Start & Scale Businesses
Through our grant making, research, and unique ability to convene stakeholder conversations that lead to high-impact collaboration, we support a range of resources crucial to helping adult entrepreneurs start and scale their businesses. These include: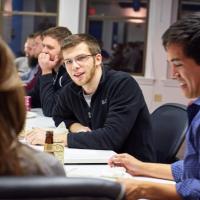 Funding opportunities
Talent development
Training & education
Incubation
Technical assistance
Peer-to-peer learning
Quality Mentors
In recent years, as research has shown the central importance of quality mentors in developing successful entrepreneurs, we helped create a nationally admired mentorship program. Officially launched in 2013, JumpStart's Burton D. Morgan Mentoring Program has provided scores of companies with coaching and mentoring services from nearly 100 highly experienced entrepreneurs, who are experts in various disciplines crucial to entrepreneurial success.
This program provides entrepreneurs with tailored advice and counseling in areas such as sales, marketing, access to capital, board composition, management, and human resources.
Foundation Values - Adult Entrepreneurship Programming
Burton D. Morgan Foundation values adult entrepreneurship programs that…
bolster regional economic competitiveness
develop entrepreneurial skills
collaborate with ecosystem partners
leverage broader community resources
engage underserved populations
embed mentorship and coaching
evaluate their effectiveness
pivot to meet changing needs
share lessons learned
demonstrate fiscal responsibility