Adult Entrepreneurship
Building on Akron's Assets
Burton D. Morgan Foundation seeks to strengthen the free enterprise system through its grantmaking in adult entrepreneurship, in accordance with the wishes of our founder, Burt Morgan, who expressed his desire for others to enjoy the same economic freedom he experienced as an entrepreneur. 
The Foundation's funding in the adult entrepreneurship ecosystem is focused primarily on stimulating entrepreneurship and business growth in the Akron area through proactive initiatives and partnerships.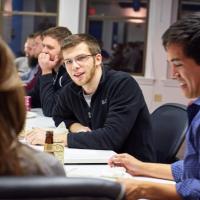 Backbone of Akron's Adult Entrepreneurship Ecosystem
Bounce Innovation Hub was founded in January 2018 to serve Northeast Ohio's entrepreneurs, startups and small businesses. Located in downtown Akron, Bounce comprises more than 300,000 square feet of coworking, event, meeting and professional office space.  Through inclusive entrepreneurship programs and community partnerships, Bounce unofficially operates as the "front door" to Greater Akron's entrepreneurial ecosystem.
Partnerships to Strengthen Northeast Ohio
In addition to supporting entrepreneurship in Akron, the Foundation also partners with several key organizations in Northeast Ohio to strengthen the region's entrepreneurial ecosystem.  Morgan Foundation has partnered with JumpStart since 2013 to support entrepreneurs through the Burton D. Morgan Mentoring Program.  Morgan Foundation also supports the work of the Fund for Our Economic Future, which strives to advance our region's economic growth and promote equitable opportunity.
Scalerator NEO - Helping Business to Scale Up

In 2017, Morgan Foundation partnered with the Richard J. Fasenmyer Foundation to launch Scalerator NEO, a six-month, cohort-based educational program for entrepreneurs and leaders who want to deliver immediate growth to their businesses and are open to learning new ways to achieve this goal. Developed by Dan Isenberg, the founding executive director of the Babson College Entrepreneurship Ecosystem Platform, and taught in cooperation with colleagues at the Harvard and Columbia business schools, the program seeks to serve companies with $3 million - $15 million in sales and a desire to grow. When the Fasenmyer Foundation sunsetted in 2018, it provided a grant to Burton D. Morgan Foundation in the amount of $3,750,000 to support scaleup efforts.
---
Foundation Values - Adult Entrepreneurship Programming
Burton D. Morgan Foundation values adult entrepreneurship programs that…
bolster regional economic competitiveness
develop entrepreneurial skills
collaborate with ecosystem partners
leverage broader community resources
engage underserved populations
embed mentorship and coaching
evaluate their effectiveness
pivot to meet changing needs
share lessons learned
demonstrate fiscal responsibility