Oberlin College
Leading with Mentoring
This nationally prominent bastion of liberal arts was initially reluctant even to use the word entrepreneurship when it became part of the Northeast Ohio Collegiate Entrepreneurship Program (NEOCEP). In the ten years since, however, Creativity & Leadership: Entrepreneurship at Oberlin has become a defining campus initiative.  And the three hallmarks of the program – creativity, innovation, and entrepreneurship – are now widely cited as core aspects of an Oberlin College education. 
As a school that has traditionally attracted curious, high-achieving students, the college eventually came to embrace the central experiment embedded in NEOCEP: Can the liberal arts' foundational tools of curiosity, writing, and critical thinking be used to explore entrepreneurship?
"Despite the fact that it seemed like it was outside of the curriculum, entrepreneurship was a very natural fit for Oberlin in terms of liberal arts, which is applied learning – what do you do with this education?" says Andrea Kalyn, dean of Oberlin's Conservatory of Music.  "So it was just a question of figuring out the best way to implement it in the curricular structures."
Campus leaders saw that it fit into the college's model of a truly transformative undergraduate education.  "Oberlin students tend to think for themselves and do interesting things.  So it is kind of a natural fit," comments Dean Kalyn.  As a bonus, the college learned that entrepreneurship is a powerful tool for re-engaging dormant alumni as entrepreneurial mentors, consultants, and donors.
The Oberlin Way
As with every NEOCEP school, Oberlin introduced entrepreneurship in a way that resonated with its unique personality, campus culture, and student profile. Liberal arts and Conservatory of Music students were reached through courses, mini-grants, student competitions, and campus speakers. Socially-engaged students and faculty embraced entrepreneurial principles and tackled a variety of challenging entrepreneurship activities and projects.  
One such project included hosting ambitious symposia which engaged students and faculty.  As part of the Design Symposium held in 2010, Creativity & Leadership issued a challenge, allowing twelve students the chance to design, produce, and market a line of college apparel for sale in the school bookstore. 
Oberlin also leveraged an impressive roster of alumni, including a co-founder of iconic Ben & Jerry's and a top product designer for design-conscious Target Corp., to return to campus to evangelize on the topic and lead symposia on entrepreneurship.
Two especially popular features of the campus program – an entrepreneur-in-residence and LaunchU, a boot camp for aspiring entrepreneurs – have also helped cement throughout the campus community the critical importance of providing entrepreneurial role models through mentorship and coaching. Investors involved with LaunchU are actively engaged with the program and mentor and invest in LaunchU startups beyond the competition.
John Knific, himself a young entrepreneur who co-founded a company, became the College's first entrepreneur-in-residence in 2013.  Instrumental in working with Oberlin student entrepreneurs, John gave the advice and guidance students like Isaac Yoder needed for his own startup.  This led to Isaac being accepted to the summer-long software accelerator in Cleveland, Flashstarts, which is modeled on the popular Silicon Valley accelerator Y Combinator.
Venture Funding
Noted as one of Forbes' "Top Entrepreneurial Colleges in America" in 2015, Oberlin has gone even further to support emerging student entrepreneurs by awarding competitive venture funding.  In the program's early years, most students received small starter grants. This included a group of four students who received an Ignition Grant in 2014 for their digital app, Runovation, a fitness application that integrated music with a user's workout. Two other students received a Creativity Fund grant for a media production and marketing business, while another student received funding to develop a cinematography startup.
More generous Creativity & Leadership fellowship grants, however, allowed the most motivated and entrepreneurial students to spend the year after graduation developing their ventures. 
That initial financial support has allowed several ventures to continue to flourish today, including Skritter, an innovative software program to improve the practice of Chinese and Japanese languages, and Los Angeles-based Kantara Crafts, a fair trade business that partners with Moroccan textile artists. 
Kantara Crafts founder Alia Kate, who took a leave during what would have been her senior year to move to Morocco and study Arabic, was among the first winners of the Creativity & Leadership fellowship grants in 2007-08. The grant allowed her to spend a year following graduation to develop her idea for a rug business, tapping the expertise of various faculty members. "Both of my parents are teachers, so there wasn't a lot of entrepreneurial background there," she says. She wanted to catch up.
Now living in Southern California, Alia later returned to campus as an alumna participant in a LaunchU competition, which she says quickened her learning curve. Noticing the multi-generational participation of students and alumni mentors, she sensed an environment that was fully receptive to entrepreneurship.
But no one who really understands the Oberlin student profile should be too surprised, she says. "We're creative, we're self-starters, we question norms, we push boundaries. We're change makers at our core, so it doesn't surprise me that there's a long history of folks at Oberlin that have been starting businesses and will continue to do so. It's nice that Oberlin is creating structure around that, to cultivate and foster that in future students." 
© 2017 Burton D. Morgan Foundation, All Rights Reserved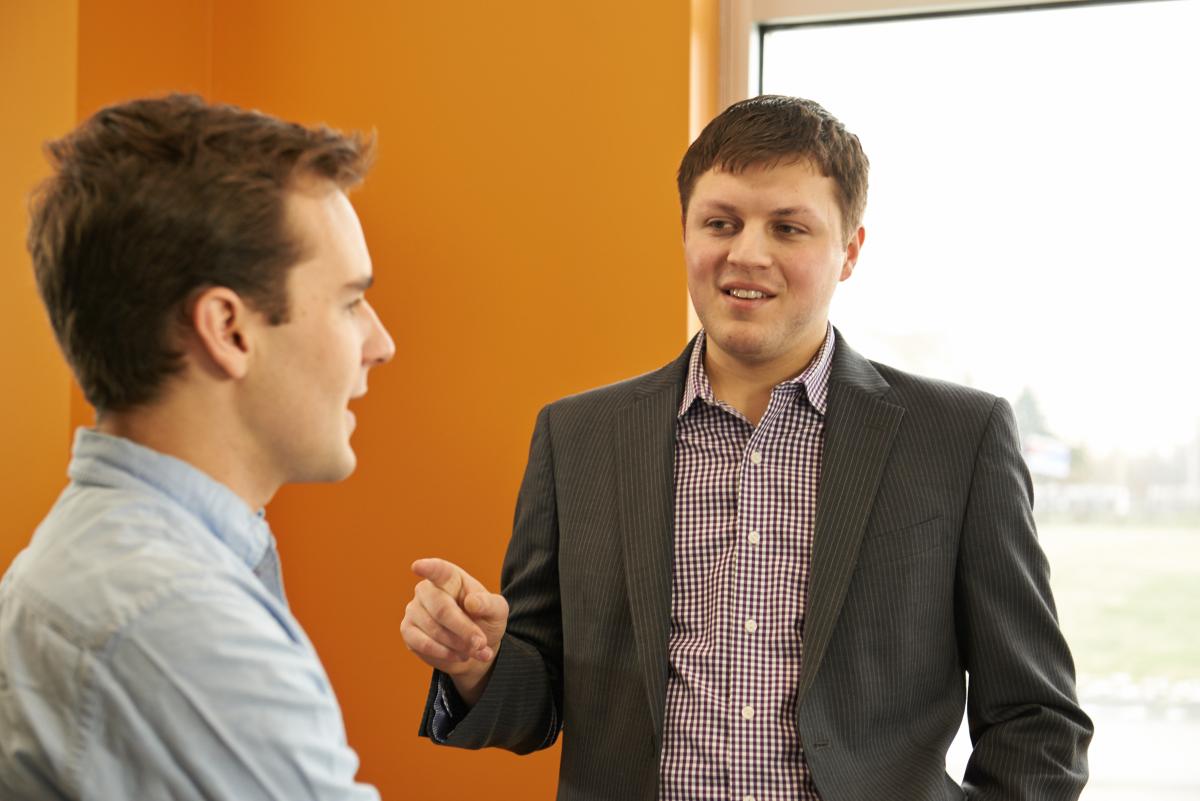 ---
Entrepreneurship at Oberlin College & Conservatory
Andrea Kalyn, Dean of the Conservatory of Music, December 2016
Over the past ten years, grants from the Burton D. Morgan Foundation Northeast Oho Collegiate Entrepreneurship Program (NEOCEP) has catalyzed and showcased entrepreneurship among Oberlin students, faculty, and alumni through the College's Creativity & Leadership (C&L) and LaunchU programs, and so enhanced the transformative power of an Oberlin education.
When Oberlin first received the invitation in 2007 to apply to the NEOCEP initiative, faculty and the administration recognized the potential for student learning but were uncertain whether Oberlin was a good fit for the program. Many entrepreneurship programs are centered in institutions with robust business programs and introduce entrepreneurship within the curriculum as a major area of study, but it was clear this would not be an effective model for Oberlin as a liberal arts college and conservatory of music. In defining entrepreneurship, however, we recognized creativity, innovation, action, and leadership as not only essential elements of entrepreneurial endeavor, but also as core to the Oberlin ethos—even Oberlin's popular admissions slogan ("Think one person can change the world?") is rooted in an entrepreneurial mindset—and so we sought to develop a program that would further Oberlin's educational approach, strategic priorities, and the work of students, faculty, and alumni. Creativity & Leadership: Entrepreneurship at Oberlin was launched in 2008 as a multi-disciplinary program that encourages students to put their innovative ideas into practice, and since that time has offered a variety of opportunities and multiple entry points for students of all majors and class years to build the skills, knowledge, and experience needed to develop, test, and implement their ideas during their formative undergraduate years.
Oberlin's approach to entrepreneurship programming inverted the traditional model, and this was key to its early success. By design, Creativity and Leadership has functioned as experiential and co-curricular programming, featuring competitive venture funding at different levels, mentoring, workshops, guest lectures, internships, and networking events; while coursework is an important element of the program, its role has been to prepare students to conceive and implement ventures that draw on their passions and learning across disciplines. Competitive venture funding remains a core component of the program, one that impels student practice of entrepreneurship, generates interest and excitement in the program, and affirms for students the relevance of entrepreneurship course offerings, internships, and other experiential aspects of the program.
For the first five years of the program, four levels of funding were offered each year; the Creativity Fund, through which students applied for starter grants of up to $1,500 to test their entrepreneurial ideas or to pilot a venture; Conservatory Initiative Grants Supporting Imagination and Excellence (CIGSIE) offered conservatory students support to develop innovative artistic endeavors during Oberlin's Winter Term, when students undertake independent or group projects outside the regular curriculum; Internship grants supported summer internships through which students could develop skills, experience, and perspective critical to entrepreneurial endeavor; and the prestigious Creativity & Leadership Fellowships awarded the most innovative, motivated, and prepared Oberlin students the unparalleled opportunity to spend the year after graduation moving their projects from concept to reality. Several of the earliest ventures supported and launched through Creativity & Leadership funding continue to thrive even today: Skritter (skritter.com), an innovative software program designed to improve learning of Chinese-and Japanese-language characters; Kantara Crafts (kantararugs.com), a fair-trade business that partners with Moroccan artisan cooperatives to offer finely crafted, hand-woven textiles from Morocco in a socially responsible, environmentally conscious fashion; and One World One Rope (oneworldonerope.org), an enterprise that teaches jump rope to children and youth in Tanzania and Kenya, using it as a means of fostering confidence, teamwork, and leadership.
Connecting current students with alumni was fundamental to Creativity & Leadership from its conception. In 2008 and 2010, C&L organized highly successful symposia that brought together students, alumni, and faculty to explore aspects of entrepreneurship. The 2008 event – Inventing the Future – featured keynotes by Ben & Jerry's Ice Cream co-founder Jerry Greenfield (OC '73); Dr. Jonathan Merrill (OC '84), founder and CEO of Astute Technologies; and Michael Alexin (OC '79), then Vice President of Soft Product Design and Development at Target Corporation, as well as two dozen alumni who returned to campus—many for the first time since graduation—to participate in panel discussions on entrepreneurship in a variety of fields including music, the environment, the arts, social entrepreneurship, and finance. The 2010 symposium – Designing the Future: From Idea to Impact – expanded the 2008 format to include student presentations as well as formalized networking events. A central focus of the event was a student design challenge, in which twelve students were tasked with designing a line of Oberlin College apparel that would appeal to both students and alumni, as well as developing a marketing plan that included market research and a strategy for distribution. These students, who represented different years and majors, came to the challenge as individuals who shared a passion for design but worked together to design clothing that was eventually sold at the Oberlin College bookstore. Their engaging designs were showcased at a dynamic fashion show to a capacity crowd in Oberlin's historic Finney Chapel and critiqued onstage by a panel of prominent alumni from the design community. The event, which featured live music and performers, was designed and produced by a second group of Creativity & Leadership students, who had the unique opportunity to implement their artistic vision for the specific purpose of marketing a product.
The power of entrepreneurship reflected in these early symposia to bring together students and alumni in meaningful ways became fully evident with the advent of LaunchU in 2013. A collaborative effort between Oberlin and members of the President's Advisory Council (PAC), LaunchU is venture incubator designed to accelerate the development and launch of Oberlin student, alumni, and faculty/staff entrepreneurs. Taking place mainly during Oberlin's Winter Term, the LaunchU bootcamp guides entrepreneurs through a business-model innovation curriculum focused on developing a minimum viable product and developing their skills and understanding in preparation for launching their ventures, as well as one-on-one coaching and pitch prep. The program culminates in a public pitch competition before a panel of potential investors and judges for a range of awards that include seed capital, personal mentorship, and in-kind services.
With the advent of LaunchU, which functions publicly as the platform for Oberlin entrepreneurship and which purposefully and effectively connects students and alumni, Creativity & Leadership programming has been reshaped over the past five years as the internal "feeder" program, focused on developing the entrepreneurship pipeline and whetting student appetites for deeper entrepreneurial engagement through LaunchU:  ENTR 100 (Introduction to Entrepreneurship) introduces students to concepts and fundamentals of entrepreneurship; the Ignition Fund (formerly the Creativity Fund) provides small starter grants for students to try out an entrepreneurial idea; endowed Flint Initiative Grants (formerly CIGSIE) and XARTS grants offer conservatory students and artists across campus the opportunity to develop innovative and often interdisciplinary artistic projects; and internship grants support summer internships through which students develop skills, experience, and perspective relevant for entrepreneurial endeavor.
LaunchU/Creativity & Leadership highlights and expands a culture that has long existed at Oberlin but had not been directly supported or actively encouraged. Over the past decade, the impact of the program has been significant in that creativity, leadership, innovation, and entrepreneurship are now cited proudly as hallmarks of an Oberlin education by constituencies from students to members of the Board of Trustees. Indeed, entrepreneurship has proven an effective tool in helping students interweave their coursework, co-curricular activities, and personal passions in ways that enable them to imagine and practice their professional lives beyond Oberlin, and entrepreneurship has become a powerful way of engaging alumni as mentors, consultants, and donors. Both are consistent with Oberlin's 2015 strategic plan, which identifies a focus on "connected learning"—learning across disciplines, majors, and experiential opportunities—as well as a goal of connecting student experiences on-campus to their future professional lives beyond Oberlin and supporting those connections through active alumni engagement.
As we look to the next phase of entrepreneurship at Oberlin within the context of the goals articulated in the strategic plan, LaunchU/Creativity & Leadership programming must become more clearly integrated into the curricular fabric of the institution in ways that have meaning for faculty, as well as for students. Relationships with college faculty in particular have suffered over the past three years as the result of multiple changes in leadership of the program.  While the robust advisory board of highly engaged alumni that has overseen the development and funding of LaunchU is a ready asset, Oberlin's next Director of Entrepreneurship will need to build new faculty relationships on campus, to find specific points of entry into the current curriculum, and so demonstrate entrepreneurship as an effective and powerful mode of connected learning.
We at Oberlin are inspired by the experiences and successes of our student and alumni entrepreneurs to date, and remain committed to fostering the entrepreneurial aspirations of generations of students to come.