Tribute to Richard A. Chenoweth
1925-2019
By Deborah D. Hoover, President & CEO
Burton D. Morgan Foundation Trustee (1978-2009)
Trustee Emeritus (2009-2019)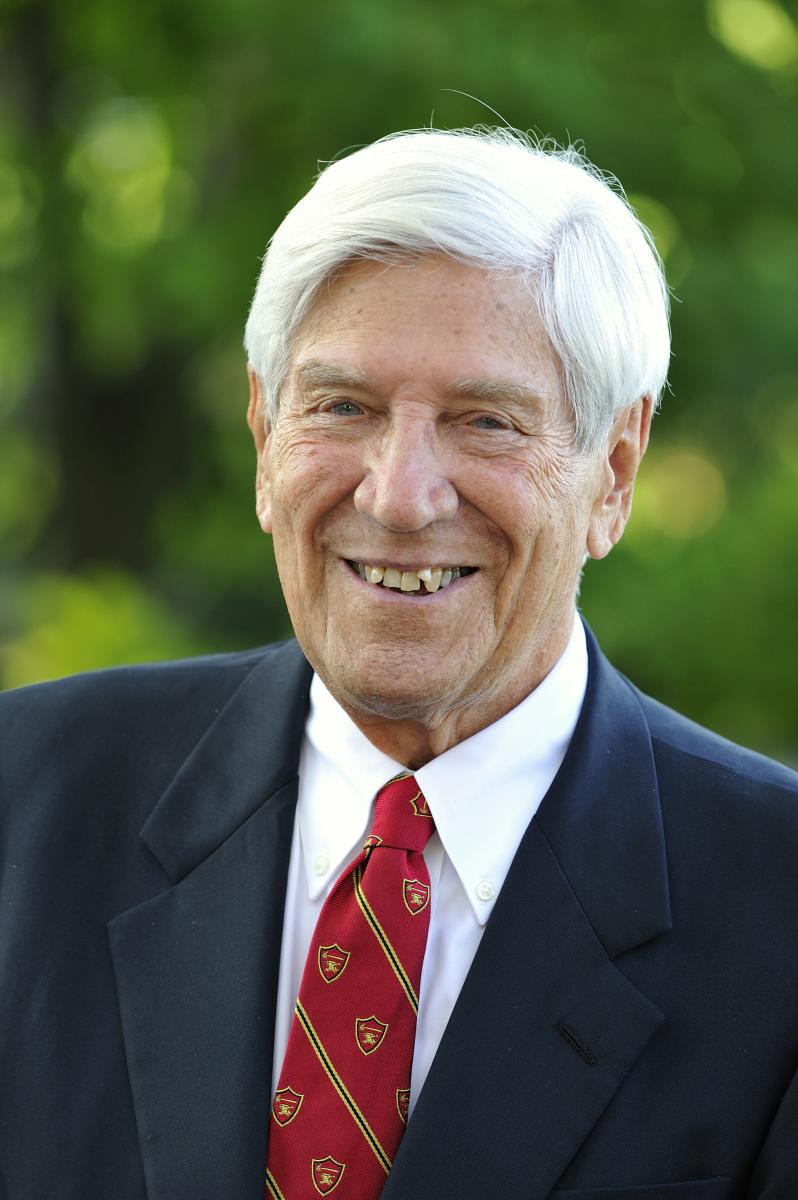 Dick Chenoweth served on Morgan Foundation's Board of Trustees for thirty-one years as a voice of reason, legal expert, knowledgeable community member, and experienced philanthropist.  I first met Dick in 1998 when I became a program officer at the GAR Foundation and he became one of my most trusted mentors as I learned the discipline of grantmaking due diligence and the nuances of philanthropy.  Over the years, we shared not only the GAR Foundation connection, but also dedication to the philanthropic vision of Burt and Peg Morgan as they grew Burton D. Morgan Foundation and launched Margaret Clark Morgan Foundation (now Peg's Foundation). 
We became close colleagues and friends through these shared experiences.  I greatly valued his perspectives and insights on legal matters, nonprofit governance, and management, especially when I became Executive Director of Margaret Clark Morgan Foundation in 2001 and later President of Burton D. Morgan Foundation in 2007.  He was always a steadying influence as we navigated rough waters, asking the tough questions and providing guidance at just the right moment.  I will be forever grateful to him for helping me to build my leadership skills, inspiring me to pursue bold goals, and for always serving as a wise sounding board on big challenges. 
Morgan Foundation Trustees and Staff extend our deepest sympathies to the Chenoweth Family on the passing of Dick.  We know we are very fortunate indeed to have enjoyed his good company, drawn upon his vast experience, and learned from his generosity of spirit. 
At the time of his retirement from the Board of Trustees of Burton D. Morgan Foundation in 2009, his fellow Board members passed the following resolution in his honor capturing the essence of his special contributions to our mission: 
Resolution of Appreciation For
Richard A. Chenoweth
Unanimously adopted at a meeting of
The Burton D. Morgan Foundation
Board of Trustees
WHEREAS, the retirement of Richard A. Chenoweth from the Board of Trustees of The Burton D. Morgan Foundation marks the completion of thirty-one years of distinguished service to the Foundation, it is now the unanimous wish of this Board of Trustees that permanent record be made of his outstanding leadership and dedication; and
WHEREAS, he has guided the Foundation through the contribution of his time, talent and legal expertise over more than three decades;
WHEREAS, Richard A. Chenoweth has consistently exercised prudent judgment in grant deliberations thereby advancing the vision of Burton D. Morgan;
WHEREAS, Richard A. Chenoweth has contributed significantly to the growth and development of the philanthropic community in Northeast Ohio and has demonstrated a generosity of spirit that serves as a beacon to others;
NOW THEREFORE, BE IT RESOLVED, that the Board of Trustees records its deepest appreciation to Richard A. Chenoweth and pays tribute to his integrity, high standards, and strong work ethic.
BE IT FURTHER RESOLVED, that Richard A. Chenoweth be honored as a Trustee Emeritus to The Burton D. Morgan Foundation in recognition of his exemplary service.
BE IT ALSO RESOLVED that a copy of this Resolution endorsed by the Trustees shall be presented to Richard A. Chenoweth as an expression of their gratitude and sincere wishes for his good health and happiness.
Keith A. Brown                                               J. Martin Erbaugh
John V. Frank                                                 Stanley C. Gault
Mark D. Robeson                                            Richard N. Seaman
Signed September 18, 2009