Hiram College
Ecosystem Connector
When it comes to entrepreneurship education, Hiram College is a prominent overachiever.  It has one of the richest and most vibrant collegiate entrepreneurship education programs in Northeast Ohio. And it all happened in just a decade.
Ten years ago, before receiving the Northeast Ohio Collegiate Entrepreneurship (NEOCEP) grant, entrepreneurship education did not exist at Hiram. Some faculty members were initially concerned that an injection of this vocational component into the curriculum would take the institution away from its roots in the liberal arts. In time, they came to see that with its emphasis on exploration, critical thinking, and writing, the subject actually mirrors the liberal arts approach.                                                                                             
Today, Hiram's Center for Integrated Entrepreneurship enjoys deep, interconnected roots throughout the campus and beyond, bolstered by workshops led by experts from Babson College that help faculty members incorporate entrepreneurship into their classes. A Hiram chemistry professor teaches a course called The Scientist as Entrepreneur and a music professor teaches The Musician as Entrepreneur. Other classes include Shakespeare the Entrepreneur and The Psychology of Creativity.
The director of the Center for Integrated Entrepreneurship, Kay Molkentin, understood early on that for entrepreneurship education to take root at the collegiate level, it would have to achieve full buy-in from the entire faculty. That led her to propose expansive faculty workshops, which are now open to other schools in the region.
A Continuing Presence
Kay Molkentin's leadership has helped the Northeast Ohio entrepreneurship education ecosystem grow into a vibrant peer learning network. As president of the Entrepreneurship Education Consortium for three years, she played a major role in bringing greater cohesion to the entrepreneurship curriculum at various colleges and universities in the region, and more closely aligning subject matter with the larger goals of the adult ecosystem. That way, she says, "If students are going to take their idea and move on after college, they already know the language and understand the principles" of the larger startup world.
Through blossoming ecosystem-wide collaborations such as Immersion Week, the Entrepreneurship Education Consortium directors collaborate as a single unit. If they have an issue that needs to be resolved, or want advice on a topic or presentation, colleagues at ten other schools are available for consultation.  The Center for Integrated Entrepreneurship has been a strong advocate of shared programming, inviting other schools to attend the popular Fireside Chat series, as well as rounding up Hiram students to attend programs at Kent State and other nearby schools. 
These collaborations ultimately benefit students at each of the schools, introducing them to a larger network of ideas and resources than any one school could produce by themselves.  Entrepreneurship Education Consortium directors are available to speak with students at all the schools, provide guidance if they have knowledge of a particular area, and share their expertise equally among the 11 schools.  At Immersion Week, students meet their peers from other schools, so they can start to build their personal networks.  As a result, entrepreneurship education has better inter-university connections in Northeast Ohio than any other discipline.
Entrepreneurship and Academics
An additional grant from Burton D. Morgan Foundation supported the creation of an entrepreneurship center in East Hall, as a locus for everything from idea competitions to bringing successful entrepreneur speakers to campus. Programming at East Hall is designed to foster an exploration of personal passions and an entrepreneurial mindset in every member of the campus community. 
East Hall also serves as a unique residential living and learning community, where students interested in pursuing an entrepreneurial path are immersed in an environment that is especially conducive to creativity and innovation. 
As a result of this strong foundation, entrepreneurship is now the most popular minor on Hiram's campus, in part because students are encouraged to "test drive" the subject while fulfilling a core requirement for graduation.
In partnership with Lakeland Community College, Hiram now has an entrepreneurship major. In addition, the two schools recently joined forces on an entrepreneurship boot camp for military veterans on the Lakeland Community College campus, and they continue to brainstorm on other possible future collaborations, says the director of Lakeland's entrepreneurship center, Gretchen Skok-DiSanto.
Spurred by Business Competition
Test-driving entrepreneurship is precisely how Justin Lonis happened to fall into the program. A Toledo native who initially chose Hiram to play basketball, he began getting involved in entrepreneurship in the middle of his undergraduate career, eventually deciding to pursue a minor. His interest was heightened when he won two business competitions for an athletic balance board that helps athletes recover more quickly from injuries – an idea that sprung from his athletic career. 
Now, while pursuing an MBA at Case Western Reserve University, Justin has informally partnered with the Base and University Hospitals-Cleveland Medical Center on a prototype of the balance board, which University Hospitals will test on athletes this summer. "If we get good test results, I think it will open the floodgates," he says. "Athletic trainers and physical therapists will be ready to use it."
Justin says he remains thoroughly indebted to Hiram for sparking his entrepreneurial interests.
"It doesn't matter what stage your idea is at, they have the dedicated resources to help you bring it to fruition. I couldn't tell you how many extra hours Kay has put in off the books, helping me and others. Some places just promote the winners, the students who really hit on something big. But Hiram does a great job of taking any kind of student and giving them the help they need. It speaks to the environment at Hiram that anyone can go there and succeed as an entrepreneur."
© 2017 Burton D. Morgan Foundation, All Rights Reserved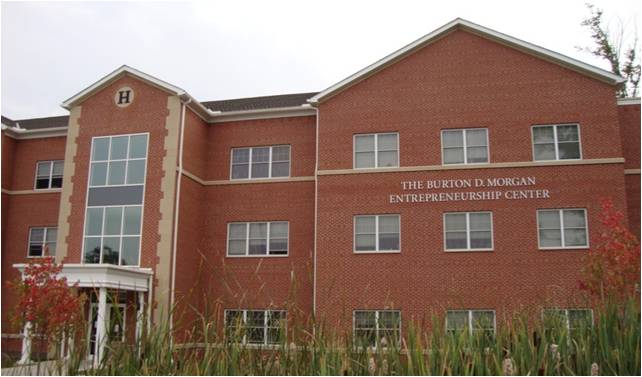 ---
Building Integrated Entrepreneurship at Hiram College
Celebrating 10 Years in NEOCEP
Kay Molkentin, Director of Center for Integrated Entrepreneurship
As a small traditional liberal arts school, entrepreneurship was non-existent at Hiram College before receiving grant support from Burton D. Morgan Foundation and the Ewing Marion Kauffman Foundation as part of the NEOCEP/Kauffman Campus Initiatives.  Today Entrepreneurship is the number one elected minor at Hiram.
From the beginning we understood the challenge to be, "integrate entrepreneurship across the liberal arts, across campus and make it sustainable." Hiram's formula to accomplish this has been a three-prong approach of:
Faculty Development – to provide faculty with the knowledge and skills to make entrepreneurship a part of their teaching and advising;
Curriculum Development – to revise current courses to integrate aspects of entrepreneurship, develop new interdisciplinary and/or entrepreneurship-specific courses, and develop a new Entrepreneurship Minor; and
Entrepreneurship Activities Across Campus – to provide complementary activities and resources, such as E-Networking, an Entrepreneur-in-Residence, Enterprise Development Competition, an On-Campus E-Incubator, and E-Venture Capital Fund, to make entrepreneurship an integrated part of the Hiram educational experience.
Hiram College believes passionately in the tradition of liberal arts education. At the same time, Hiram believes students in today's increasingly competitive world also need skills that lead directly to success in their chosen professions and personal development. The skills and character fostered by the liberal arts are an excellent foundation for successful entrepreneurs. The Center for Integrated Entrepreneurship at Hiram integrates the concepts of entrepreneurship into the liberal arts through curricular and extra-curricular activities to help students develop such skills – critical thinking, curiosity, ethical awareness, ability to write and speak clearly, ability to draw and synthesize knowledge from diverse sources and apply to diverse uses, insight into the human experience, and a life-long love of learning.
The Center's Goals
to integrate the concepts of entrepreneurship into the liberal arts through curricular and extra-curricular activities to reach all students;
to provide opportunities for every student to discover their true passion and to develop the mindset, skills and knowledge necessary to achieve their aspirations;
to help students generate the vision and sense of connectedness necessary to challenge conventional wisdom and to discover hidden opportunities;
to prepare students with the analytical and critical thinking skills to identify and to evaluate possible solutions;
to help students develop the interpersonal and leadership skills through a variety of on- and off-campus activities to enable them to take the initiative to implement the chosen solution;
to help students see themselves as entrepreneurs who can add value to their communities and profit from their passions.
At Hiram College, entrepreneurship is more than organizing and starting a business - it is a way of thinking creatively, innovatively and with a growth orientation.
Mission & Vision
The mission of Integrated Entrepreneurship at Hiram is to foster an expansive sense of the possible, an exploration of personal passion, an ownership of one's ideas and actions, and a commitment to add value to one's self and one's community.
The vision of Integrated Entrepreneurship at Hiram is for all members of the Hiram community to explore and develop their ideas beyond the classroom and see themselves as entrepreneurs who can add value to their communities and profit from their passions.
Programs and Activities
Hiram's Integrated Entrepreneurship Program provides many opportunities for students to develop their entrepreneurial mindset and abilities.
The Entrepreneurship Minor: The Entrepreneurship Minor was developed early on (launched 2007-08) and consists of three required courses (ENTR 20500: Creativity, Innovation and the Entrepreneurial Mindset, ENTR 30600: The Entrepreneurial Process, and ENTR 32100: Integrative Entrepreneurship), two electives chosen in consultation with a faculty advisor, and a capstone choice of ENTR 480: Business Plan Practicum to develop a business plan on an idea of the student's choice, ENTR 498: Experiential Learning (an entrepreneurial related internship) or ENTR48500: Student Run Venture, where students manage and run The Terrier Trader, a small food and gift shop on campus. The flexibility of the electives, experiential learning component, and senior experience requirements means students can develop a minor that complements any major at Hiram College. The Entrepreneurship Minor is offered in both the traditional college and the Weekend College Program (for adult learners).  Through Hiram's partnership with Lakeland Community College, an Entrepreneurship Major was launched in 2015-16.   
Outcomes:
Participation: The Entrepreneurship Minor has grown to be the #1 elected minor at Hiram. Over the past 4 years the number of declared E-Minors have ranged from 40-67 per year.
Graduation: 2010–3; 2011–7; 2012–8; 2013–5; 2014–13; 2015–18 and 2016-13
Integrated Courses: Hiram has a long-standing tradition of incorporating interdisciplinary studies into the curriculum. Through team-taught courses and interdisciplinary majors, Hiram's coursework exposes students to different viewpoints on the same topic, enabling students to acquire a comprehensive intellectual understanding about academic subjects along with the proficiency to communicate those concepts effectively. Hiram faculty have developed new courses, as well as revised and expanded current courses to integrate entrepreneurship. 
In the beginning, a majority of our faculty believed that starting an entrepreneurship program meant that the College was moving away from its roots in the liberal arts.  So we began with a concerted effort to educate faculty on the principles of "entrepreneurial thinking," and that these principles in fact mirrored those of the liberal arts - critical thinking, problem-solving, ethical awareness, ability to write and speak clearly, ability to draw and synthesize knowledge from diverse sources and apply to diverse uses, and insight into the human experience. 
Through a series of E-Workshops faculty explored how entrepreneurship fits with a liberal arts education, learned about the content and pedagogy of teaching entrepreneurship, developed ways to incorporate opportunities in the curriculum for students and faculty to create ventures, and discussed the entrepreneurial opportunities for our students in northeast Ohio. Five Faculty E-Workshops were held May 2007, May, 2008, May 2009, May 2010, and May 2012. Additionally, we provided support to faculty to participate in internships with entrepreneurs in their field of study.
Outcomes:
Participation: 100 faculty, 20 staff, 17 outside guests from area colleges and universities
Courses Developed: 56 total courses developed by 40 faculty -  includes 35 new courses in disciplines other than entrepreneurship, 7 new courses related to the E-minor and 14 revised courses (9 of the 56 courses are no longer offered do to attrition). Seven courses are first-year specific, i.e., First-Year Colloquium or First-Year Seminar offerings. Examples of integrated courses include: INTD30090: Entrepreneurship and the Studio Arts (team-taught); HIST22300: Medieval Towns and Trade; HIST2800: History of American Entrepreneurship; MUSI23100: The Musician as Entrepreneur; INTD28000: Science and the Entrepreneur; CPSC35600: Database Design; ETH3810: The Ethics of Making Money; PSYC28000: Psychology of Creativity; ACCT22700: Small Business Accounting Workshop; ENGL: Shakespeare the Entrepreneur; SOAN32200: Social Inequality;
Faculty Internships: 5 faculty completed internships.
Fireside Chats: During Fireside Chats, entrepreneurs engage in informal conversations with students to share their paths in establishing a successful enterprise, including some of the obstacles and missteps they made along the way. Chats are offered weekly on Wednesday evenings during the fall and spring 12-week semesters, and are open to the public.  Students can also take the Fireside Chat Seminar for credit (ENTR221).
Outcomes:
E-Speakers on Campus: To date, over the past ten years, we have brought over 148 entrepreneurs to campus as Fireside Chat speakers and over 84 classroom and special speakers.
Participation: On average 18-20 students each semester take Fireside Chats for credit.
Idea Competitions: The Center for Integrated Entrepreneurship sponsors two competitions each year - ideablitz! ™ in the fall and ideabuild! ™ in the spring.  Both competitions are preceded by a series of workshops to help participants prepare.
In ideablitz!™ contestants present their enterprise idea (concept) in a three-minute Rocket Pitch, followed by three minutes of Q&A from a panel of judges.  The judges select winners based on three criteria: clarity of idea, passion of presenter(s), and request for help. Winners receive cash awards and are matched with a mentor to help them further develop their idea. 
In ideabuild!™ contestants present ideas they have taken through a feasibility analysis.  Presenters make a five-minute presentation followed by four minutes of Q&A by a panel of judges.  The judges select winners based on criteria including: knowledge of the industry, understanding start-up costs, identified revenue model, and reasonable and substantiated next steps. Winners receive cash awards and are matched with a mentor to help them further develop their idea.
Outcomes:
Participation: Over the past 8 years (we began offering our idea competitions in 2008-09) over 420 students have participated in ideablitz! and ideabuild!. Through the generosity of a Hiram Weekend College alumnus, we held our first MAD (Make a Difference) Money Challenge, specifically focused on social entrepreneurship, in fall 2015 - eight students pitched four ideas. 
Through our association with the Entrepreneurship Education Consortium and the greater northeast Ohio entrepreneurial ecosystem, we have been able to bring additional opportunities to our students.
Outcomes:
EEC ideaLabs: 10 students have participated, with 2 taking 1st Place and 1 taking 3rd Place
EEC EIW: 36 students have participated, with 1 team of five taking 1st place
Start-Up Vikes Weekend: 1 student has participated twice and took 1st place (once)
NEO Entrepreneur Expo: 1 student participated and took 2nd Place
COSE Business Pitch Competition: 1 student took 1st Place
OSU's 10Xelerator 2011: student, 1 of 120 applicants, made it to the top 25 semi-finalists
Cleveland Chapter's EO GSEA 2014: student took 1st Place and competed at the GSEA National Finals in Chicago, Nov. 2014.
Entrepreneurial Internships: Internships in an entrepreneurial setting, such as an enterprise start-up, established business, and/or a for-profit or not-for-profit organization, help students build the skills necessary to be successful as an entrepreneur or intrapreneur. Students are matched with an entrepreneur in a field related to their major or interests.
Outcomes: 64 students have placed in entrepreneurial internships over the past 9 years.