The College of Wooster
Experiential Learning
This liberal arts institution has a long, proud history of emphasizing experiential learning. But a decade ago, The College of Wooster had little experience with entrepreneurship education.
Before the Northeast Ohio Collegiate Entrepreneurship Program (NEOCEP) initiative, Wooster offered a range of courses and experiential learning opportunities for students.  With funding from Burton D. Morgan Foundation in 2005, it also ran a program that promoted social entrepreneurship and problem-solving by connecting non-profit organizations with student teams to find meaningful solutions to organizational issues.
This social entrepreneurship program was the start of Wooster dipping its big toe into the waters of collegiate entrepreneurship education. Since then, Wooster's Center for Entrepreneurship has expanded its offerings into a sophisticated and wide-ranging program that appeals to a variety of students and faculty. In all, students from more than two dozen majors have participated in internships, pitched ideas for startups, and taken courses in entrepreneurship.
Experiencing Entrepreneurship
With its dual location in Wooster's Morgan Hall and APEX Center, the Center for Entrepreneurship is able to touch students on both an academic and experiential level.  APEX, Wooster's Center for Advising, Planning, and Experiential Learning, is where students combine their academic plans with career and personal goals.  Through offerings including student-consulting experiences, seed capital for student startups, an entrepreneurship club, and campus talks, the Center for Entrepreneurship draws students and faculty members to its dynamic and engaging program. 
Wooster students are able to take advantage of 3-D printers, student business support, and even pitch their nascent ideas through campus idea competitions.  The Center for Entrepreneurship also offers students with an entrepreneurial mindset the opportunity to become involved with the Wooster chapter of the Northeast Ohio Student Venture Fund.
Through the Northeast Ohio Student Venture Fund, students meet twice a year with a group of early-stage entrepreneurs and choose one to work with each semester. The students conduct due diligence on the startups, and at the end of the term make a recommendation to either invest in the company or decline funding depending on their research findings. This experiential learning opportunity gives students the chance to learn how to evaluate business opportunities while preparing them to make their own pitches to investors in the future.
Pitching Against the World
One popular and enduring program that sprung from NEOCEP is a campus-based global pitch competition. Each year — in partnership with Ohio University and universities in Hungary, Wales, Croatia, and Portugal — the Center for Entrepreneurship takes part in an international video pitch competition. Students compete for cash prizes by submitting a two-minute video and one-page overview of their business ideas. Winners are selected by an international panel of investors and businesspeople.
Wooster's program is driven by an institutional urge to challenge the status quo and a campus-wide philosophy that great ideas must be put into action through hands-on experience.  In partnership with the IT department and The Bit Factory in Akron, the Center for Entrepreneurship helps students translate ideas for apps and other digital assets into businesses. Wooster sees this as yet another way to offer students in-depth experience in entrepreneurship and significant experiential learning opportunities.
The college's widely respected Independent Study, a requirement for all seniors, encourages students to approach the onset of their careers with an entrepreneurial mindset.  In conjunction with the Department of Economics, the Center for Entrepreneurship has even created a handbook for Wooster students who wish to pursue entrepreneurship-related Independent Studies.
Influenced by the Environment
Fahim Aziz was among the students deeply influenced by Wooster's entrepreneurial-focused environment. Born in Bangladesh, he wanted to attend college in the United States. His only requirements: the institution must have strong math and economics programs and not be located in a large city. He found Wooster through an online search, applied, and was accepted.
In his information systems class, he learned crucial lessons about asking the right questions, doing the research, and then reframing questions. These lessons were deepened by his exposure to the Center for Entrepreneurship. "I was spending a lot of time in the program and with the entrepreneurship club. Somewhere I got this idea that college is where you find out what you're good at and passionate about."
He formed a close bond with program director Peter Abramo. "Peter was very supportive. He always talked about how to think about products and growth."  All of this emboldened him to visit Silicon Valley during spring break, which eventually led to applying for a spot in Y Combinator, perhaps the world's leading tech incubator. With an acceptance rate hovering from one to three percent, it's more selective than Harvard. He beat the odds and got in. 
Fahim went on to co-found Backpack, an online peer-to-peer marketplace that enables consumers to buy discounted products overseas. Today, the company has approximately 30 employees, has raised more than seven figures of investment capital, and has received mentorship from such legends as former Googler Nash Islam, a prominent tech evangelist, futurist, and serial entrepreneur. He is also a fellow Bangladesh native.
"Wooster was really important in exposing me to this startup world," says Fahim. "I got a glimpse of what entrepreneurship is all about."
© 2017 Burton D. Morgan Foundation, All Rights Reserved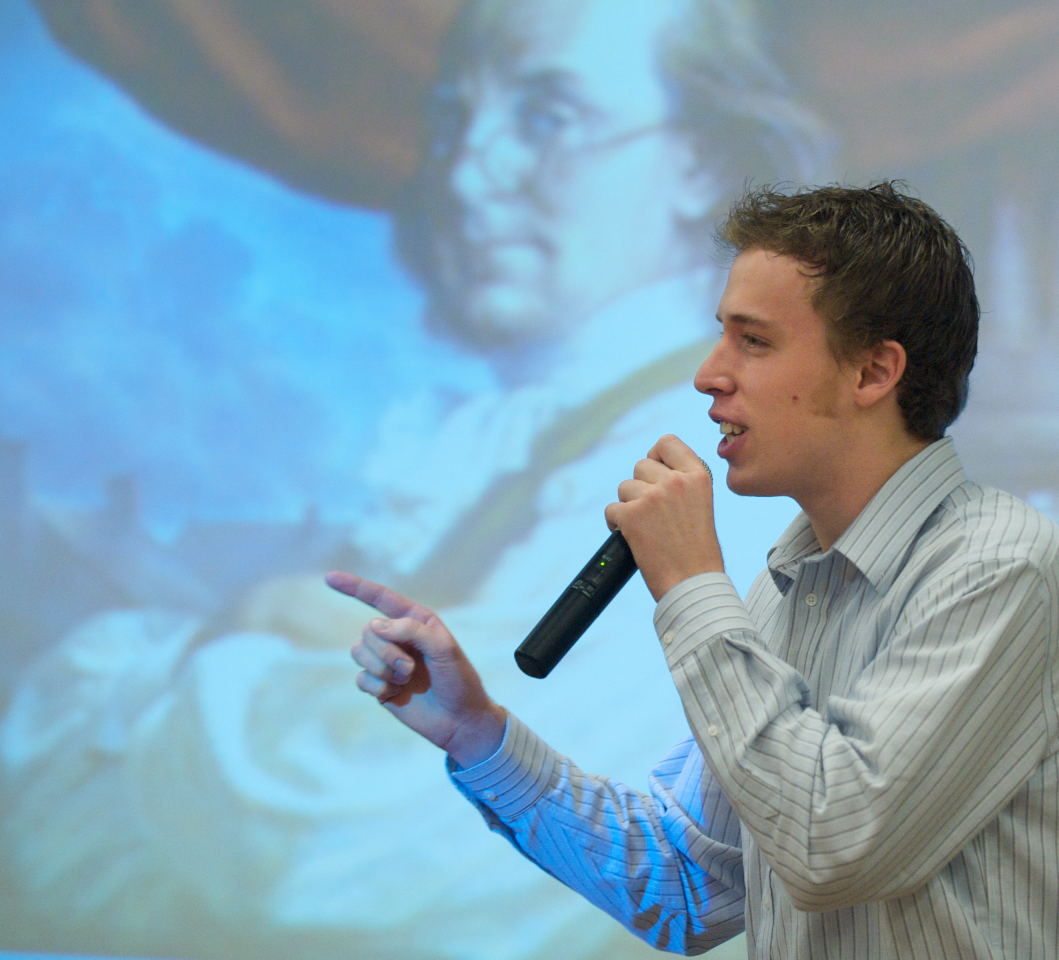 ---
Entrepreneurship at Wooster: Embedding Entrepreneurship into a Comprehensive Center for Academic, Professional, and Personal Development
Peter Abramo, Director of Entrepreneurship
The College of Wooster is a liberal arts college with a strong history of undergraduate research manifested in the Independent Study project that starts in the junior year and continues throughout students' senior year.  Within this setting entrepreneurship was introduced with funding from Burton D. Morgan Foundation and the Ewing Marion Kauffman Foundation as part of the Kauffman Campuses Initiative in 2007.  Prior to that time, the only evidence of entrepreneurship on campus was within the economics department where two social entrepreneurship courses were alternatively offered, one with a local emphasis and one with a global emphasis.
With the NEOCEP grant, Wooster began the process of creating a stand-alone center focused on entrepreneurship.   The process for establishing and integrating entrepreneurship onto the campus had two distinct phases.
Phase I: As a new concept to the campus, entrepreneurship was initially perceived in a business context, creating a lack of clarity on how that fit into a liberal arts campus that did not even contain an academic business department.  The initial approach to address this was to create a Center for Innovation and Creativity.  This stand-alone center was physically located near the Economics Department which housed the social entrepreneurship courses.  The thinking was that innovation and creativity had a more clear connection to a liberal arts curriculum.  Several faculty were hired to bring entrepreneurial themes into the curriculum, primarily through courses in the departments of theater, psychology, and environmental studies.  One of these faculty members also became the Center's Director, having responsibility for programming and course delivery.  Over time, the Center's name was changed to Center for Entrepreneurship and an interdisciplinary course focused on entrepreneurship was created and taught by the director of the entrepreneurship program.  An entrepreneurship club was started, students found internships with startups, and an Idea Competition was created to encourage the pursuit of entrepreneurial ideas.
Phase II: In 2012, a new Director was hired to manage the Center for Entrepreneurship.  At the same time, its physical location was moved into the newly created advising, planning, and experiential learning area consisting of seven offices called APEX.  Wooster refers to APEX as "a place to dream, to plan, and to integrate your education with the world of work. APEX is Wooster's center for Advising, Planning, and Experiential Learning. It's where you will combine your plans for your four years as a student with your goals for life after graduation. APEX empowers you to make informed and intentional choices about your academic, personal, and professional paths."
There were two main forces leading to this move.  One was an effort to increase the visibility of entrepreneurship across the student body.  Previously, the Center was located in a building on the edge of campus that was only utilized by students majoring in the disciplines housed in that building.  The move placed the Center into the epicenter of student engagement.   The other was an intentional decision to integrate entrepreneurship in a new way.  While remaining an independent Center, new connections were made that increased student access.  The Director began to collaborate with the offices of Career Planning, Off Campus Studies, Advising, the Learning Center, and Experiential Learning.  Integrated programming has emerged and the Center is able to leverage APEX resources.
The move to APEX has led to a fundamental change in how the Center for Entrepreneurship operates within the College:
The number of entrepreneurship courses have increased.
Students who never heard about the Center now participate in Center activities.
New community engagement opportunities have emerged.
A new City Trek program was created across offices that opens the door to in-depth entrepreneurial site visits.
The Center has partnered with Career Planning to identify ways to teach success skills to students that will prepare them for the world of work.  Career Planning has a new appreciation for intrapraneurship.
Collaboration with Experiential Learning has led to new internships and project work.  International students are more strongly connected to the Center through the ELL work done by the Learning Center now that they understand the nature of entrepreneurship and have proximity to the Center.
Engagement with off-campus studies has opened the door to entrepreneurial opportunities around the world.
Working with academic advising, the Center is now able to guide students interested in pursuing entrepreneurial ideas or even self-design majors in entrepreneurship.
Collaborating across the offices in APEX, the Center now participates in mock interviews, alumni dinners, professional competency training and other programming related to student development.  Through these efforts, the Center can expose many students and others to entrepreneurship.
The Shift to APEX has Deepened the Connection with the Student Body:  Entrepreneurship at Wooster is now deeply integrated into the academic, professional and personal development of many students.  APEX has tremendously increased the visibility and involvement of the Center for Entrepreneurship across campus.  Every First Year student enters APEX for initial advising and approximately 70% of the student body has utilized the services of the seven offices.  This co-location has brought many students to the Center for Entrepreneurship who have ideas and an interest, even if they are not certain they want to be entrepreneurs.  This unique way of placing entrepreneurship into the center of advising, career planning, off-campus studies and experiential learning sheds a different light on the value of entrepreneurial thinking for all students.  The campus has moved well beyond the simple concept of "creativity" or the restrictive definition of business creation.  This shift in the location of the Center and its connections with the other offices in APEX have fundamentally altered the role of entrepreneurship into an integrated part of the Wooster campus. 
Problem Solving has become a focus for the Center for Entrepreneurship.  On a purely liberal arts college campus, the definition of entrepreneurship as a mindset for solving problems resonates with faculty and staff.  Given that some of those problems may be related to the market place, or community issues, or public health, or economic development, the Center ends up being attractive to a wide variety of students.  The connection with the various offices in APEX reinforces the notion that entrepreneurial thinking provides value in many diverse settings.
Entrepreneurship in the Curriculum
During the period since the start of the NEOCEP/Kauffman Campuses Initiative, Entrepreneurship has become more widely accepted into the curriculum.  There are three interdepartmental courses that focus on entrepreneurship and are taught by the Director of Entrepreneurship.  These courses have attracted students from at least 27 different majors, regularly include international students from many different countries, and consistently fill to capacity.  IDPT 12000 Introduction to Entrepreneurship focuses on helping students develop an entrepreneurial mindset.  IDPT 22000 Entrepreneurship and Community Impact explores the role that entrepreneurship plays in a community.  IDPT 40500 Startup Venture Evaluation engages students in the role that angel investing plays in entrepreneurship and is a connection to the Northeast Ohio Student Venture Fund.  In addition to these regularly scheduled courses, a course was co-taught by the Director and a professor in ecology called Environmental Entrepreneurship.  First Year Seminars are also being taught with entrepreneurship topics by the Director and other faculty. 
Entrepreneurship has now become part of the signature program at Wooster, the Independent Study project completed by all seniors.  Students have the option of creating a self-design major with an entrepreneurship focus.  The first of these was completed in 2016.  Entrepreneurship is also now a theme for IS that students can do within their existing major.  Faculty from different departments are becoming involved now in these types of IS projects.  These initial steps are opening a pathway to increase the role of entrepreneurship in the curriculum.
Entrepreneurial Co-Curricular Activities
Entrepreneurship at Wooster currently has even deeper and broader connections within co-curricular activities than within the curriculum. 
Experiential Learning:  Following the best practices of entrepreneurship programs across the country, Wooster engages in several co-curricular activities that help teach students an entrepreneurial mindset.  One of these is the idea competition where students develop and pitch business ideas in front of a panel of judges.  The program also brings entrepreneur speakers to campus, makes site visits to various businesses, and seeks internships for students to get experience working in startup companies.  Idea sessions are held where students come to the Center for an hour and engage in brainstorming and creativity activities to help them learn about innovation.  Finally, students organized into teams as part of the College's Applied Methods Research Experience have engaged in consulting projects with startup companies.
TEDxWooster:  Started by the initiative of entrepreneurship students, the Center for Entrepreneurship has hosted TEDxWooster over the past four years.  This event is used to bring entrepreneurial speakers from a variety of backgrounds onto the campus.  It has been an effective way to connect with students who do not purposely seek out the Center yet who have interests that dovetail well into the programming and focus.
Community Connections: The Center has built connections with the local community to create new learning opportunities for students.  This includes a leadership program that uses local CEOs and presidents to talk about leading organizations and making a positive impact.  Student consulting teams work with startup and existing businesses conducting marketing research.  The local revolving loan fund that supports entrepreneurship in our county holds events in our Center and students are becoming involved in providing guidance to applicants.  Students have also worked with local maker spaces in the areas of 3D printing, laser engraving, and the creation of CNC machines.  The intention of this activity is to encourage the creation of prototyping.
City Trek Programs: Partnering with other offices in APEX, the Center has organized student trips to cities in the Midwest where they meet with alumni and learn about local entrepreneurial efforts.  These have included trips to Cleveland, Columbus, and Detroit.
Connections to the Entrepreneurial Ecosystem: To provide greater opportunities to our students, the Center takes students to events at other universities or locations where they can participate and learn.  This includes participating in Startup Weekend events with Ohio University and the University of Cleveland.  It also includes activities at the University of Akron and in the city of Akron's business incubator, events at Jumpstart, and involvement in regional entrepreneurial gatherings.  These connections permit our traditional liberal arts students to intermingle and work with computer science and engineering students. 
Student Businesses: The Center does support student businesses when they are created.  Student business development is not a focus of our program and does not seem to be much of a draw to the Wooster students.  There have been some exceptions, however, in which case the Center has provided guidance, access to alumni and support in seeking appropriate expert help.  This has resulted in one student starting a company in Silicon Valley with substantial investor support, two students working with Y-Combinator and Techstars in NY on their idea, and a third establishing his firm in his home country of Tanzania and winning a Commonwealth award as a young entrepreneur.
The Future of the Center for Entrepreneurship is Focused on Expanding Opportunities.  Students at Wooster have already begun to collaborate with students from Ashesi University in Ghana.  Using technology, students from both schools are exploring entrepreneurial opportunities.  The Director has visited Ashesi to explore new ways for the students from both institutions to collaborate during the school year and work together on real world projects in the summer.  New relations with the University of Pecs in Hungary has opened the door to Wooster's involvement in an International Video Pitch competition.  The Director will be visiting the University of Pecs this summer to learn more about a summer entrepreneurship consulting program that will include Wooster students in future years.  These types of efforts not only expand the horizons of Wooster students, they help to connect the Center with more on-campus departments and broaden the reach across campus.
Wooster's approach to entrepreneurship has truly integrated it into the mission of the College and the Graduate Qualities that structure the education provided by the school.  It has gone from a bolt-on program to an extremely integrated part of student development with increasing curricular ties.