Baldwin Wallace University
Cross-Campus Learning
In 2007, shortly before the launch of the Northeast Ohio Collegiate Entrepreneurship Program (NEOCEP), Baldwin Wallace University had just the early awakenings of an entrepreneurship program, offering an MBA in Entrepreneurship, a few classes, and a minor in the discipline. The Foundation had funded the Burton D. Morgan Endowed Chair in Entrepreneurial Studies two years earlier, but for the most part the school's business education focused on preparing students for careers in corporations and large businesses, not entrepreneurial pursuits.   
Peter Rea, the first holder of the Burton D. Morgan Chair and Director of the Center for Innovation & Growth before his departure in 2012 to join Parker-Hannifin, was instrumental in getting NEOCEP off the ground at Baldwin Wallace and a key figure in developing the collegiate entrepreneurship ecosystem in Northeast Ohio.
In the decade since, NEOCEP has helped embed an entrepreneurial mindset across the entire campus, engage faculty members as mentors for students, and leverage funding opportunities to support future activities. The campus now brims with interdisciplinary entrepreneurial energy, evident in classes introduced throughout the formal curriculum, as well as in clubs, internships, and idea competitions.  "Having a business prof partnering with a religion professor to teach entrepreneurship was a cool combination," says graduate Patrick Miltner.
Reaching Students
"Innovation & Entrepreneurship" is a required module in the First Year Experience course, leading the Center for Innovation & Growth to reach every incoming student on campus beyond an initial introduction at Orientation.  Tom Sutton, a professor of Political Science and early champion of NEOCEP, now holds the Burton D. Morgan Chair. For many, he is the embodiment of the intersection of liberal arts and entrepreneurship, reaching – along with the Center for Innovation & Growth – across campus to a variety of departments and disciplines.   Recently, ten new faculty members became involved in the Center for Innovation & Growth, spreading the entrepreneurial mindset further across the Baldwin Wallace campus.
In collaboration with the School of Business, liberal arts faculty members were engaged as part of the curricular committee that was instrumental in developing a new major, Innovation & Entrepreneurship.  Designed as a second major (students graduate with a double major), Innovation & Entrepreneurship complements a primary program of study in the humanities, business, music and social, physical, and health sciences. Coursework is comprehensive and includes economics, accounting, marketing, and business plan development. Experiential learning activities such as internships and field studies supplement the academic side.
A National First
Entrepreneurship is not just found in the liberal arts at Baldwin Wallace.  Capitalizing on its business school and world-class Conservatory of Music, the University recently launched the nation's first arts management and entrepreneurship major, which helps students build an entrepreneurial mindset for their future careers.  All of these developments serve as a rich platform for the latest addition to the campus' entrepreneurial lineup, LaunchNET, an exciting and innovative program that prepares students to launch new ventures. 
The Center for Innovation & Growth, which has been called the most energizing program on campus, is the hub for entrepreneurial activity throughout the faculty, student body, and the surrounding business community.  The Center for Innovation & Growth runs the Ratcliffe Student Fellows Program – one of the original components of Baldwin Wallace's NEOCEP grant – which matches promising students who are "curious, creative, and confused" with companies looking for help with growth projects.  In the last decade, nearly 300 students have participated. 
In 2010, the Ratcliffe Student Fellows Program led to the development of the Student Athlete Fellows Program which engages scholar-athletes on campus.  Approximately 40 students take part each year and in addition to participating in corresponding Student Fellows activities, have the opportunity to hear from speakers in the sports world such as Chris Antonetti, the president of baseball operations for the Cleveland Indians.
Finding His Comfort Zone
Patrick Miltner was among the students that participated in the Student Fellows Program. Originally intent on pursuing aerospace engineering elsewhere, the self-described lifelong geek and tech enthusiast eventually chose Baldwin Wallace for its more familial feel. "I also liked the fact that I could learn a much broader range of things, because I wasn't totally sold on engineering yet."
A fan of the startup scene, he says "I kind of fell into the Center for Innovation & Growth and the business clinic program, and realized, hey, there's this whole business program at Baldwin Wallace where they're actually doing pretty cool stuff. You're attending real pitch meetings with angel investor groups, there are business plan competitions and there's all this stuff you can go and see, and it's real, not just in a textbook."
He was also energized by the wide range of students it attracted. "There were English majors, pre-med students, conservatory students and athletes. It's a cool, broad mix." Patrick double-majored, earning a degree in economics and political science.
Today, he's a project manager for OE Connection, a much-admired Cleveland-based company that provides a software platform for clients in the automotive manufacturing supply chain. He got his first glimpse of the company as an undergraduate, helping lead a team on a Center for Innovation & Growth project.
"I didn't even know what a project manager of a software company was until I started working with OE Connection in college. You're kind of the hub of a company inside of a company. A product manager is essentially a mini CEO of a product line, and I work with engineers and customers all day, developing solutions. It turns out I didn't have to have an engineering degree and code all day. But I can still do that thing that I love, and be sort of a mini business owner."
© 2017 Burton D. Morgan Foundation, All Rights Reserved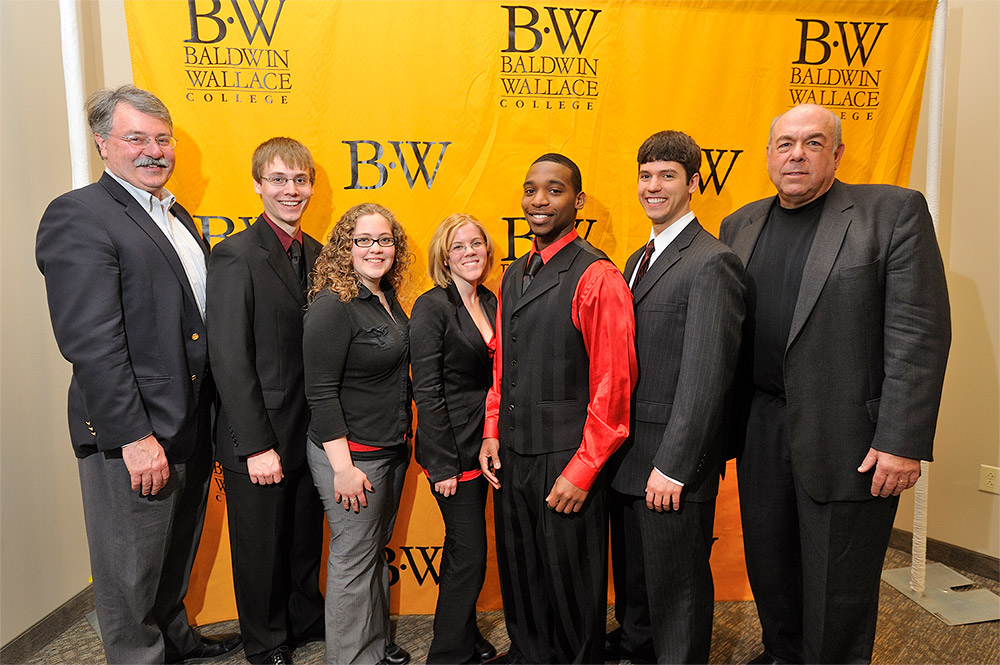 ---
Entrepreneurship at Baldwin Wallace University:  A Decade of Growth
Retrospect Report following the Northeast Ohio Collegiate Entrepreneurship Program Grant
Lacey Kogelnik, Director of the Center for Innovation & Growth
Annie Heidersbach, Director of Corporate & Foundation Relations
BW's Home for Entrepreneurship: The Center for Innovation & Growth
Since its founding in 1845, the entrepreneurial mindset has been a hallmark of Baldwin Wallace University (BW). And while the Center for Innovation & Growth's (CIG) history is still relatively young – 2017 marks its 10 year anniversary – the spirit of innovation and entrepreneurship can be traced back to BW's visionary founder, John Baldwin.
As a successful stone quarry owner and one of Berea's first and best-known entrepreneurs, Mr. Baldwin's vision has endured two additional centuries, creating a school committed to education regardless of race, gender, creed or ability to pay. Mr. Baldwin's legacy remains because of individuals and organizations who value the importance of entrepreneurial thinking, including the support provided through the Northeast Ohio Collegiate Entrepreneurship Program (NEOCEP) grant award.
Before Baldwin Wallace University received the NEOCEP grant, we had already begun substantive work to institutionalize entrepreneurship education, as we had an endowed professorship in entrepreneurial studies – through the generosity of Burton D. Morgan Foundation – and established courses and a minor in this discipline. However, the NEOCEP grant provided BW an opportunity to expand the visibility and understanding of entrepreneurship across the campus, while contributing to regional economic development.
Infusing Entrepreneurship Across the Campus
The dream to expand entrepreneurship across the campus began at a time when liberal arts faculty viewed entrepreneurship as a business practice. Additionally, most business faculty equated entrepreneurship as "small business" rather than a way of thinking and looking at the world.  Today, entrepreneurship at BW is not just a "business thing." Rather, BW faculty of all disciplines consider entrepreneurship a viable career option. At BW, entrepreneurship is recognized as a way for students to convert passion for their majors into opportunities.
In 2007, the Center for Innovation & Growth – founded by Dr. Peter Rea, Professor of Business, and currently, Vice President of Integrity & Ethics at Parker Hannifin – became the home for entrepreneurship at Baldwin Wallace University. With a mission to infuse innovation and entrepreneurship campus-wide and contribute to regional economic development, this co-curricular program welcomes students of all majors. The goal of CIG is to develop the next generation of leaders who can start, grow, and reinvent things, whether they launch their own businesses or work for established companies.
The unique way CIG integrates liberal arts and entrepreneurship is through the application of classical virtues: courage, faith, justice, prudence, temperance, love, and hope. These virtues are used as a common language for teaching character-based leadership, a time-honored way of living a personally meaningful life. If character is about identity and entrepreneurship is about action, the virtues form a strong foundation on which to base a program.
Ratcliffe Student Fellows & Student Athlete Fellows Program
This unique approach to entrepreneurship is taught in CIG's signature Ratcliffe Student Fellows Program, which was created during the grant period and continues today. Each year, faculty nominate students who are "curious, creative, and confused" to participate in this two-semester program designed to:
convert passion into opportunity by developing an entrepreneurial mindset and skillset
learn innovation through an interdisciplinary approach grounded in a virtue model
develop insights about the entrepreneurial process
gain access to entrepreneurial/innovative experiences and mentoring
acquire and practice character-based leadership skills
In the first year of the program (2007 – 2008), 15 students participated. Over the years, we experimented with program enrollment.  At its highest, we recruited over 50 students. We learned that the "right" number of students proved to be between 25-30, which we maintain today. In total, 290 students have participated in the Ratcliffe Student Fellows Program since 2007.
In 2010, we recognized that student athletes could not participate in the Ratcliffe Student Fellows Program due to their conflicting practice and game schedules. Because student athletes make up approximately 25% of the overall student body – and because we believed the concepts taught in the Fellows program could support the development of high-performing teams – we began to explore a new version for this group.
Under the leadership of Dr. Alan Kolp (who also serves as BW's NCAA Faculty Representative); Kris Diaz, the Athletic Director; Cheri Harrer, Head Coach of Women's Basketball and Senior Women's Administrator – and with support from every varsity coach –  we created the Ratcliffe Student Athlete Fellows Program, which launched in 2011.
In this program, each coach nominates two student athletes per varsity sport to participate the semester opposite their season. Approximately 40 athletes are enrolled annually and, in total, CIG has engaged 235 student athletes. Also significant – through this partnership, the Athletics Department has become one of CIG's greatest on-campus champions, allowing us to impact a group of students who we might not have reached otherwise.
Growth Practice
After successfully completing the Ratcliffe Student Fellows Program, students are eligible to apply for an internship with CIG's Growth Practice, which provides a unique opportunity for students to serve as consultants on projects for clients like Parker Hannifin, GOJO Industries, Cliffs Natural Resources, Westfield Insurance and OEConnection (and others, including non-profit clients).
For the past two summers, we hired ten Growth Practice interns – the largest cohort to date. Together, these interns served on professionally-led project teams and conduct primary and secondary market research to help organizations overcome barriers to growth. At the conclusion of each project, the interns present their research findings and strategic recommendations to the organization's senior leadership team. To prepare for the experience, the intern team completes four weeks of intensive presentation coaching with Scott Plate, BW's Associate Professor of Musical Theatre. Current interns and graduates tell us the Growth Practice internship is transformational. Clients tell us that the project work we deliver compares very favorably with the quality expected from a top-tier consulting firm.
It is because of the continued generosity of our external funders that programs like this are possible. Carole Ratcliffe, BW alumna – class of '68 – was an accomplished student athlete and successful entrepreneur. In 2010, The Philip & Carole Ratcliffe Foundation pledged $1 million dollars to fund the Ratcliffe Student Fellows Program and its complementary internship program within CIG's Growth Practice.
Start Something BW | LaunchNET
The Center for Innovation & Growth also supports students who aspire to start new ventures. Now entering its fifth year at BW, LaunchNET is an innovative program that presents entrepreneurship as a viable career path and offers students, faculty, and alumni concrete tools and guidance to transform ideas into thriving businesses. LaunchNET provides just-in-time resources, one-on-one coaching, access to a network of mentors and a place where the student entrepreneur can connect with like-minded students. The program prepares students to launch new ventures that create jobs Northeast Ohio needs, while leveraging the region's rich entrepreneurial ecosystem.
LaunchNET at BW is part of the NEOLaunchNET consortium, which is powered by Burton D. Morgan Foundation, and includes programs at Case Western Reserve University, Kent State University, and Lorain County Community College. NEOLaunchNET replicates the Launch Pad, originally created in 2008 at the University of Miami.
In 2016, LaunchNET provided entrepreneurship education to almost 2,000 members of the BW community through venture coaching meetings, programming and class presentations. Since the program's inception, over 30 ventures have resulted from the education received through LaunchNET.
From Start Up to Scale Up
While CIG has affected an important culture change at Baldwin Wallace, and continues to generate energy and enthusiasm around entrepreneurship, there is an opportunity to do more. CIG – now well established – is no longer a "start up." Ten years later, CIG is a "scale up" focused on growth and sustainability.
At the recommendation of the CIG Advisory Board – comprised of influential and committed Northeast Ohio business leaders who have been involved with CIG since its inception – in 2016, the CIG team worked with an external facilitator to create an Operational Roadmap. Strategic priorities over the next three to five years include:
significantly expanding cross-campus collaborations
increasing the number of students impacted
ensuring long-term financial sustainability
Since working toward these strategic priorities began, we can report the following early accomplishments:
implementation and assessment of a new innovation and intellectual curiosity teaching module in all sections of the First Year Experience (FYE) course, a requirement for all students
increased attendance and participation at CIG events, resulting from intentional campus collaborations and securing speakers with national and international recognition (for example, Auntie Anne Beiler of Auntie Anne's Pretzels)
the launch of BW Thrift, a second-hand, student-run consignment store with a pop-up shop format. In less than six months, BW Thrift achieved over $3,000 in revenue and will become the project of a newly created CIG Living & Learning Community in fall 2017.
new faculty collaborations,  including Dr. Lori Long,  Chair of the Department of Management & Entrepreneurship, to conduct an assessment of the Innovation & Entrepreneurship (INEN) major and Entrepreneurship Studies minor and increase enrollment in the major/minor
a strengthened partnership with the BW Development team to identify alumni, donors, foundations and corporate partners committed to helping the Center for Innovation & Growth prosper. 
Imagining and creating the future of CIG is only possible with university leadership support. Since 2012, CIG has benefited from a direct reporting relationship to the president, Dr. Robert Helmer, in order to fulfill the program's commitment to its campus-wide, co-circular mission.  Additionally, it is Dr. Helmer's hope that, in this next phase of CIG's growth, the program can touch the lives of every student on Baldwin Wallace's campus.
Transformational Experience
The successes CIG experienced during the grant period are largely due to the collaboration – not just the financial investment – from the Ewing Marion Kauffman and Burton D. Morgan Foundations. As a NEOCEP campus, there was a significant level of involvement from the funders, in which we benefited from regular guidance, oversight, and mentoring.
While we still have the full support of Burton D. Morgan Foundation and they remain partners in every sense of the word, the level of involvement has changed, appropriately so. Post-NEOCEP, we are empowered to create our own destiny. With the program solidly in place and positioned for future growth, we have complete autonomy to continue and fully develop a program that honors the entrepreneurial tradition on which Baldwin Wallace was created.